Meet the team: Satria Pinandhita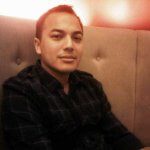 Name: Satria Pinandhita
Title: Regional Director of Sales, APAC
Describe your role: I travel around APAC trying to get people excited about eInsight!
Where are you located? Singapore
Tell us an unknown fact about where you are based: Singapore is one of only three surviving city-states in the world, because we don't have a capital. The other two are Monaco and the Vatican City
What attracted you to Cendyn? Gladys Ang. I have a shrine at home built for her
How do your strengths play into the work you do? I enjoy meeting new people and getting them excited about anything
What do you like most about working at Cendyn? Flexibility and I get to travel to awesome places
Favorite Cendyn moment: When Bob Magliozzi visited our Singapore office. Turns out he personally knew all my old bosses!
Define hospitality in your own words: A generosity of spirit that comes from the heart
If you could describe yourself with a GIF, what would it be?
Name a book or film that changed your life: Bloodsport
What do you like to do for fun? Netflix, Texas Hold 'Em and Badminton
Parting words of wisdom: Dress for success. When you dress up, you are going to be successful