Feb 5, 2021
eInsight CRM campaign management – reimagined
eInsight CRM: campaign management completely reimagined
Hotel marketing is a fast-paced, demanding profession, especially if you're dealing with scaled-back staffing in these challenging times. You need tools that are simple to use and boost your productivity so you can spend your time crafting the best messaging for your most finely targeted audience. That's why we've completely redesigned how you manage your email marketing and transactional campaigns in eInsight CRM.
Managing campaigns in eInsight CRM is so simple. Everything from the new interface to the revamped workflow provides an intuitive and flexible user experience geared towards taking action and improving your productivity. Whether you're collaborating with a large team or you're solely responsible for your hotel's marketing, the new design for campaign management gives you the ability to act quickly and efficiently.
The Manage Campaigns section is now organized with user-friendly views and advanced filters, ensuring you can quickly find what you need. You can also save criteria from a particular campaign as an Audience and repurpose that Audience across other campaigns. The new streamlined and intuitive workflows mean you can get your work done hassle-free in less time.
REQUEST A DEMO TODAY!
Action-packed Manage Campaigns page 
On the new Manage Campaigns page you can easily fine-tune your view by toggling between marketing and transactional campaigns, and primary and sub campaigns, as well as apply custom filters to any column.
For example, if you filter for 'pending' in the status column, you'll only see campaigns waiting for your approval. You can then open a campaign's details page to quickly send yourself a test email, preview the campaign and review the audience. If changes are needed, you can jump to where you can edit the campaign.
Once your review is complete and the campaign is good to go, you can select 'Approve' in the pop-up box right on the manage campaign page. Now your campaign is ready to be scheduled, which can also be accomplished with two clicks on the manage campaign page.
Campaign details like you've never seen
The new Campaign Details area contains everything you need to manage your campaign in neatly organized and accessible tabs. On the at-a-glance summary tab, you can review the campaign's particulars, preview your dynamic content, and double-check that your privacy and security settings are in order.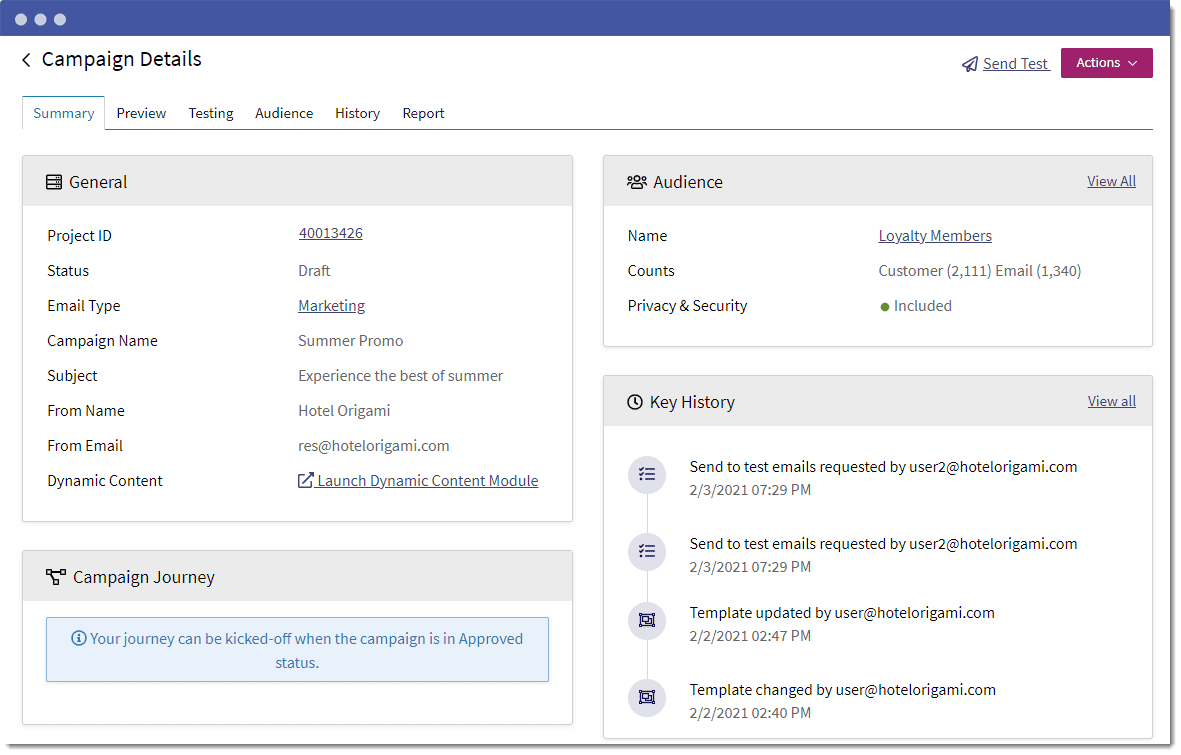 On the Testing tab, you can review your basic and advanced testing data or rerun your test reports.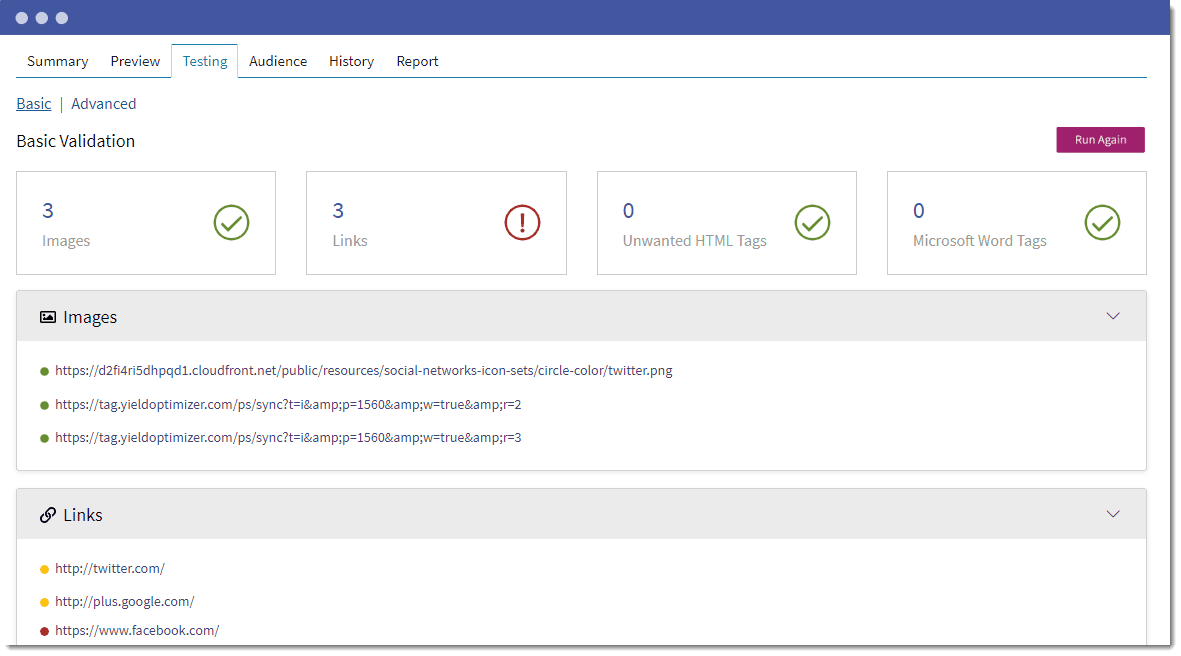 On the Audience tab, you can look at the campaign's criteria and access customer details where you can preview and "quick send" a test email containing real guest and reservation data.

For campaigns you've sent more than once, you can view reports for each send date on the Reports tab.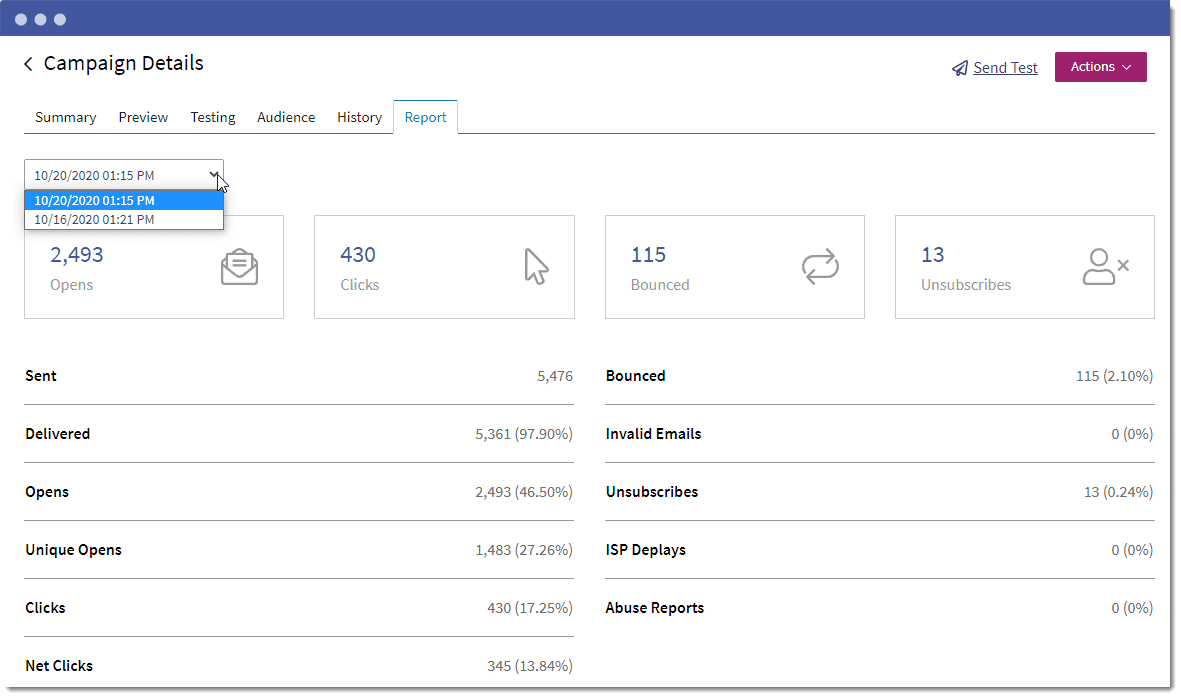 Feature use case examples:
The new Manage Campaigns page makes it easy to review the status of up to 100 of your email campaigns all at once, providing a helpful, wide view of your campaigns' statuses from testing to approved and scheduled.
Wouldn't it be great if you were able to quickly save a new Audience you just set up right within a campaign? Well, from the Manage Campaign dashboard you can now easily save the criteria from a previous campaign as an Audience and use as is, or modify as needed, for other campaigns.
Find your campaign with built-in filters for marketing versus transactional campaigns, primary versus sub campaigns, and campaign statuses. Or enter a key word or two or the Project ID into a specific column filter for a more precise search.
On the testing tab, review the campaign's images and links in the basic validation view or go to the advanced view to preview your email campaign on multiple devices.
Throughout the campaign details area, you can send a test email to yourself to see how it renders. You can then send yourself a quick send email from the customer details view in the Audiences tab to see how actual guest data will appear in the email.
If you'd like to find out more about managing campaigns in eInsight CRM and how CRM can help you, schedule a demo today!
Resources
Related resources