Cendyn announces expansion of Guestfolio team across the globe
Following our announcement of a strategic follow on investment from Accel-KKR earlier this month, we are pleased to share an update on the continued expansion and investment in our Guestfolio CRM product and team.
After the acquisition of Guestfolio in 2016, we worked hard to ensure Guestfolio CRM integrated into the Cendyn product family and that it continued to evolve with the changing landscape of the hospitality industry. Three years later, we are excited to continue with the evolution of Guestfolio CRM to ensure it meets the needs of your team's day-to-day workflow and enhances the experience for your guests for many years to come. We have also created a seamless upgrade path from Guestfolio CRM to eInsight CRM, our enterprise CRM platform, for customers whose needs evolve to require more advanced CRM functionality.
Earlier this year we made the decision to close the original Guestfolio office in Whistler, Canada. Though it is an incredibly beautiful location, being a remote resort destination made it increasingly difficult for our customers and rapidly expanding teams to easily access. Guestfolio CRM sales, marketing, product, development, and customer success teams now work out of our global offices in Boca Raton (HQ), London, and Singapore. With a number of key employees continuing to work remotely from the British Columbia, Canada region.
We are extremely proud that Cendyn's Guestfolio CRM continues to resonate with hoteliers and is now in use at over 1,000 independent and boutique hotel properties and small chains around the world. Here are a few of the recent success stories from our hotel partners.
Guestfolio customer success stories
"Using Guestfolio CRM is simple, but the payoffs on how it improves guest communications and hotel insights have been massive."
– Sabrina Donovan, Operations Manager, Pacific Sands Beach Resort, British Columbia, Canada
"Our top three reasons for choosing Guestfolio are customization, affordability, and customer service."
– Christopher Custer, Director of Marketing, Cardinal Hotel, Palo Alto, USA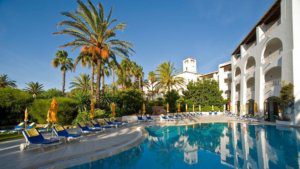 "With Guestfolio, we keep guests engaged with us by offering special conditions for their upcoming stay. All of this is made through email automation, but is completely personalized and tailored to the guest's preferences."
– Roberto Venturinha, Customer Service, VILA VITA Parc, Algarve, Portugal
"Over the past 12 months, since using Guestfolio CRM, we've seen a massive shift in direct bookings; we're paying less commission and in turn driving more return for the business."
– Quynh Nguyen, Direct Marketing Specialist, Treasury on Collins, Melbourne, Australia
Keep an eye out for some exciting new product features and enhancements in the coming months.
Learn more about Guestfolio CRM