Jun 9, 2021
eInsight CRM: Simple, comprehensive email marketing template management
eInsight CRM: Simple, comprehensive email marketing template management
Successfully executing a hotel's email marketing efforts is no easy feat, especially while running multiple campaigns across several properties. Being able to create and leverage master templates that can be used for any property is critical for hotel marketers as they look to increase efficiency and scale their marketing enterprise.
That's why we've completely reimagined how you manage your email marketing templates in eInsight CRM, which now enables you to easily create and manage email marketing templates in a new, easy-to-use interface that allows for easier repeatability and creating digital experiences at scale.
REQUEST A DEMO TODAY!
Benefits of email marketing template management
Organize templates in a beautiful card view or a condensed list view with important details and actionable items readily available at your fingertips. Quickly search for templates based on custom tags, filter by active or inactive templates, or view the most recently updated templates first. Additionally, view each version of a template every time it was updated, along with the date, time and user who made the change. Need to discard some of those changes? No problem, simply revert a template back to a previous state.
Here are just a few of the highlights:
Create one master template that can be used for some or all your properties.

Two new user-friendly views: The card view offers built-in, mini previews and helpful stats such as how many campaigns are using the template, and the date the template was last updated. The list view also includes those stats, along with advanced filters to quickly find what you need.

Declutter your views by deactivating your unused templates with the new status feature. 

Default sort to view the most recently updated template(s) first.

Revert a template back to a previous version, saving valuable time.

In the search bar, quickly find a template based on custom tags associated with it (i.e., Promos, Seasonal, Black Friday, Family Offers, and more).
Robust Manage Templates page
Some of the actions you can now take on the new Manage Templates page include:
Toggle between a card view and a list view.

In the list view, click any column header, or multiple headers, to create custom filters you can enter yourself.

Click a template to open its details page.

Jump to the Templates tab where you can edit your template.

Open a full-size preview.

Clone or delete a template.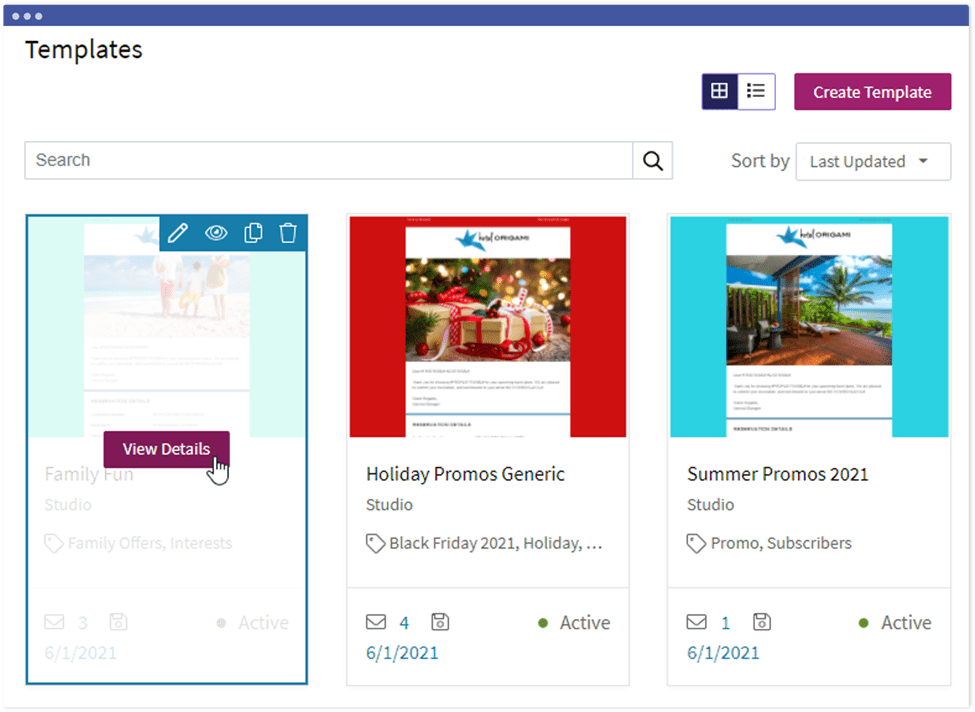 Template details at your fingertips
The new Template Details area comprises an at-a-glance summary of the template; a full-size preview; basic testing data; a list of all campaigns using the template; and a full change history.
In the Key History card of the Summary tab, you can quickly view the past five changes made to the template by user, date, and time. Click "View all" to jump to the History tab where you can view the complete change history log, or revert the template back to reflect what it was on a previous date.
You can easily preview the template or send a test email from any tab within Template Details.
And by clicking Actions, you can edit, clone or delete the template.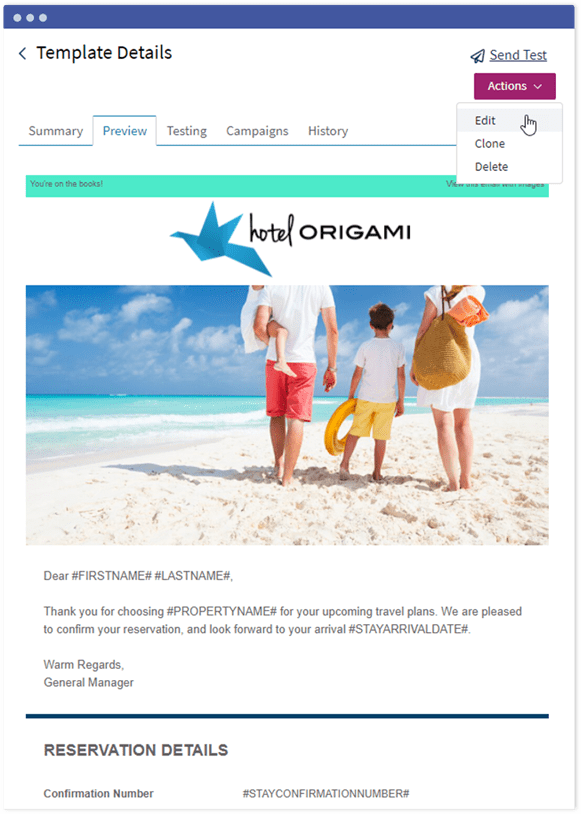 eInsight CRM template management use cases:
Create one master template that you can use across all your properties. During the campaign creation process you can then tailor the template as much or as little as needed for the particular property it is being used for without affecting the master template.
Have you ever wanted to revert a template back to an earlier version without having to completely recreate it from scratch? For example, you started making changes but then realized the previous iteration was sufficient. Well, now you can easily view a complete change history to see exactly when a change was made and who it was made by, and with the click of a button, revert a template back to its previous state.
Find your template based on built-in filters such as active, inactive, last updated, custom tags or number of campaigns the template is associated with.
On the testing tab, view the template's basic validation test results and view its images and links.
Throughout the template details area, you can send a test email to yourself or others to see how it renders.
Schedule a demo today to see how you can streamline the development of your email marketing template creation with eInsight CRM's latest enhancements.
Resources
Related resources