Guestfolio CRM: quickly view actionable snapshots of the KPIs and data that drive your decisions
The real-time visual insights displayed by a customer relationship management (CRM) platform are essential to hoteliers. This quick view of data offers a snapshot of the KPIs and real-time data that helps to activate data. Certain data points are more important to some than others, and that is why Guestfolio CRM makes it easy to access and use the tools that are indispensable to you as soon as you log in.
The enhancements to the Guestfolio CRM Latest Activity dashboard give you the ability to tailor on-site guest experiences, manage day-to-day tasks, respond to requests and reviews in real-time and take action on automation running in the background. Guestfolio CRM is brimming with tools to tailor the guest experience and automate communications for every guest throughout the travel journey. Schedule a demo now to see for yourself.
SCHEDULE A DEMO TODAY!
Powerful, at-a-glance view
CRM dashboards are action enablers – helping marketers, reservation and front office staff drive guest engagement, conversion rates and retention. However, for hotels to truly make use of their data, they must have it accessible whenever they need it.
The Latest Activity dashboard in Guestfolio CRM will help bring to light important real-time information about guests so you can quickly decide what actions to take.
The new Latest Activity dashboard offers:
Up to nine* cards: Guests, Guest Reservations, Automated Emails, Campaign Emails, Subscribers, Reviews, Survey Responses, Guest Requests and Mobile Concierge (*dependent upon your configuration).
Each data point directly links to its corresponding report, collection of data or a single response, allowing you to dive into the details with one click.
The third data point listed on most cards is a time/date stamp of the latest occurrence of the activity showcased on the card, giving you a glimpse into the very latest activity.
Summary of three key data points on each card
Each card displays a summary of three key data points that, at a glance, provide a powerful snapshot of your operation. For example, the number of guests arriving, in-house and departing are shown on the Guests card.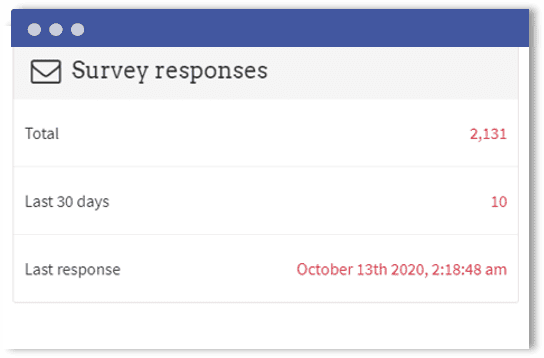 Featured use case examples:
Front office teams can use activity cards to see who is arriving, in house and departing that day. Dive into the list of guests and their respective profiles in seconds to ensure you have the latest data available when you greet each guest.
Access online reviews and survey responses in real-time. As they are posted, responses will immediately be added to the Latest Activity dashboard, allowing your team to view and respond immediately – especially useful if a negative online review has been shared.
Keep track of your recent marketing campaigns and automated transactional emails and see how many sends you've had in the last 30 days as well as when the last email was sent.
If you'd like to find out how to activate your data with Guestfolio CRM, request a demo today!