Celebrating Hotel Heroes across the globe
The past few weeks have been challenging for our industry to say the least. As a whole, individuals and businesses are overwhelmed with grief and angst as we navigate this global pandemic. But amongst the turmoil, there has been incredible signs of hope, community and giving.
We spoke to a number of our customers to find out how they were coping right now and many of them were able to share incredible stories of how they were using this time to give back to the community, donate or provide support for their furloughed employees. We've collated these stories for you to in our Hotel Heroes series, below is the wonderful story from Ace Hotel.
Ace Hotel
After closing their doors – along with many others – their employees have come first in all that they do. Ace Hotel setup the Ace Family Fund to directly support their employees who need it most right now.
"100% of the Ace Family Fund directly goes to our staff, the people who make Ace what it is. We're grateful for our lionhearted community who show up again and again. Thank you."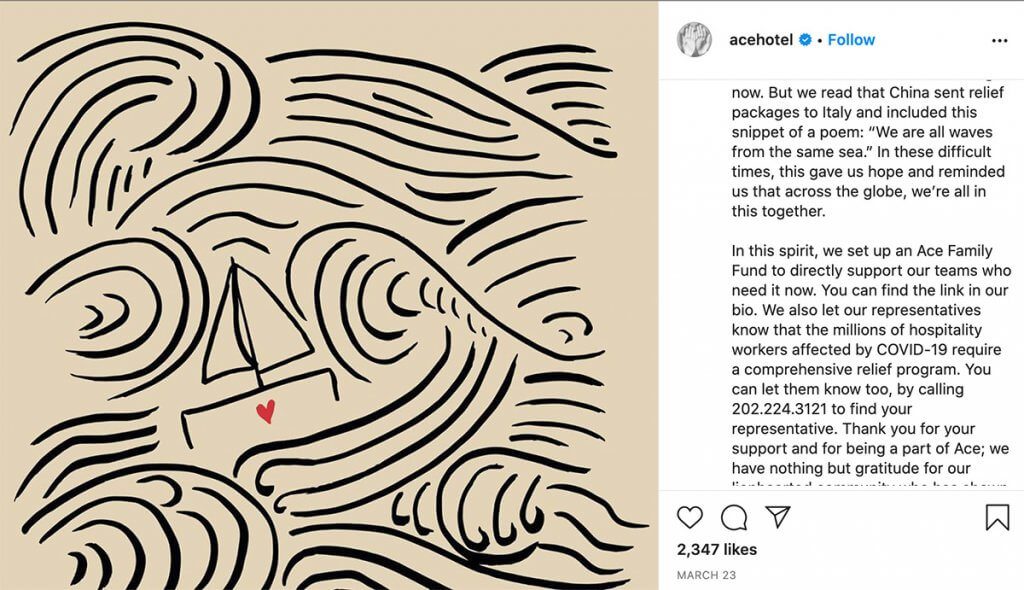 Their Instagram page has been a source of calm through this storm. One of their recent posts was a beautiful poem written by Yayoi Kusama. Something to help all of us through this challenging time.
A MESSAGE FROM YAYOI KUSAMA TO THE WHOLE WORLD
Though it glistens just out of reach, I continue to pray for hope to shine through
Its glimmer lighting our way
This long awaited great cosmic glow
Now that we find ourselves on the dark side of the world
The gods will be there to strengthen the hope we have spread throughout the universe
For those left behind, each person's story and that of their loved ones
It is time to seek a hymn of love for our souls
In the midst of this historic menace, a brief burst of light points to the future
Let us joyfully sing this song of a splendid future
Let's go
Embraced in deep love and the efforts of people all over the world
Now is the time to overcome, to bring peace
We gathered for love and I hope to fulfil that desire
The time has come to fight and overcome our unhappiness
To COVID-19 that stands in our way
I say Disappear from this earth
We shall fight
We shall fight this terrible monster
Now is the time for people all over the world to stand up
My deep gratitude goes to all those who are already fighting.
Revolutionist of the world by the Art
From Yayoi Kusama