Celebrating Hotel Heroes across the globe
The past few weeks have been challenging for our industry to say the least. As a whole, individuals and businesses are overwhelmed with grief and angst as we navigate this global pandemic. But amongst the turmoil, there has been incredible signs of hope, community and giving.
We spoke to a number of our customers to find out how they were coping right now and many of them were able to share incredible stories of how they were using this time to give back to the community, donate or provide support for their furloughed employees. We've collated these stories for you to in our Hotel Heroes series, below is the wonderful story from the Maybourne Group.
Maybourne Group
The five-star luxury London hotel Claridge's, part of the Maybourne Group, announced it was closing its doors for the first time in history in March 2020. But in response to the COVID-19 crisis, the prestigious hotel has turned itself into a refuge for 40 National Health Service (NHS) doctors and nurses, who are unable to live at home amid the lockdown. As well as complimentary accommodation, they will also be given breakfast and dinner.
The kitchen are also focusing their efforts on providing packed meals with the help of volunteer staff from the hotel's sister properties, the Connaught and the Berkeley, to NHS workers across London via the charity Meal Force. The hotel group has also donated thousands of amenities, including soaps, toothbrushes and shampoos, to help those in need and affected by the COVID-19 epidemic.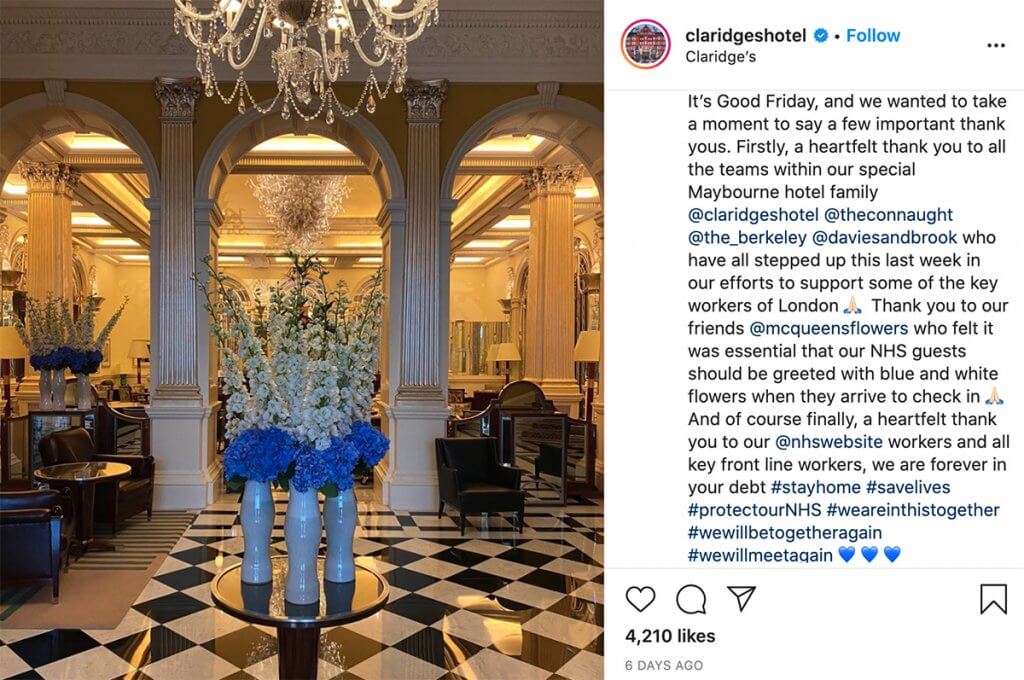 The Berkeley has launched a complimentary drive-through service for London Emergency Services teams in need of daily nourishing meals. They offer hot packed meals that can be picked up every day from 11.30am and tea/coffee from 10am on the forecourt of The Berkeley. There will be 250 meals per day, with a daily changing menu (including vegan options), first come first served.