Celebrating Hotel Heroes across the globe
The past few weeks have been challenging for our industry to say the least. As a whole, individuals and businesses are overwhelmed with grief and angst as we navigate this global pandemic. But amongst the turmoil, there has been incredible signs of hope, community and giving.
We spoke to a number of our customers to find out how they were coping right now and many of them were able to share incredible stories of how they were using this time to give back to the community, donate or provide support for their furloughed employees. We've collated these stories for you to in our Hotel Heroes series, below is the wonderful story from Sydell Group.
Sydell Group
Among several support programs they are working on, they have launched the Sydell Group Employee Relief Fund with initial contributions from our Executive Committee. 100% of funds will go directly to those employees who have been furloughed due to COVID-19.
"Our motto is We Make Hotels. What this means to us is that we dedicate our waking hours and our passion to the gracious hospitality and service of our community of guests and patrons. For us, the act of hosting is something far greater than a job. It is a reflection of the deeply human need to care for and be cared for by others. Our teams dedicate their lives to this mission, and now is the time that we dedicate ourselves to caring for them."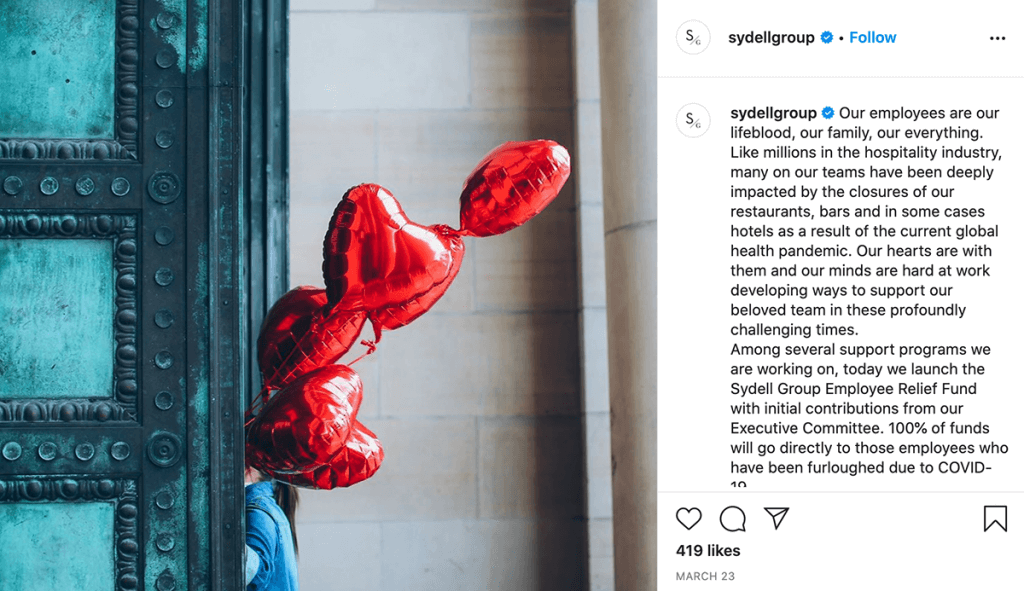 As of April 21, 2020 another community effort launched at their NoMad NY hotel. The hotel now partners with World Central Kitchen to provide ready-to-go nutritious meals to critical communities affected by COVID-19. The team is producing 300 meals a day and hopes to increase that number in the next week or so. They are now looking at expanding this program to NoMad LA as soon as possible. Stay tuned to learn more about the great efforts of the team at Sydell Group!