An exclusive interview with Ron Lugo, SVP, Rainmaker GM at Cendyn
In this month's edition of "Insider Perspective," we spotlight Ron Lugo, SVP, Rainmaker GM at Cendyn. The series highlights hospitality technology leaders and trailblazers who push the industry to innovate and evolve.
What's your professional background? How did you start your career in marketing and hospitality industries?
My official start in hospitality began back in the Summer of 1990 with my first job working at Busch Gardens, an Anheuser-Busch Entertainment Company at the time, as a grounds attendant (aka sweeper). It was at Busch Gardens that I saw first-hand how important it was, no matter what your role, to provide and deliver an exceptional guest experience. I spent the next several years working my way up from sweeper to Area Supervisor for Sales and Customer Relations.
Shortly after graduating from Virginia Tech with an Industrial and Systems Engineering degree, I went on to work for PricewaterhouseCoopers in their Management Consulting practice implementing Oracle SCM. In March 2000, I joined a .com darling, Ariba, where I stayed for nearly 17 years holding several leadership roles before joining the Rainmaker family in January 2017.
What are some defining moments or pivotal points in your career that shaped your leadership style?
My 5+ years working for Anheuser-Busch Entertainment Corporation (ABEC) provided a solid foundation for my customer-centric, "human" approach to leadership. In addition to my early days at ABEC, there were two other moments in my career that I was very fortunate enough to have had. The first was in March 2000, when I made the decision to leave PwC and join a little company, at the time, Ariba. It was there, where I learned how great leaders rally an organization behind a common goal. Over my 17 years with Ariba, I had the privilege to learn from a group of exceptional mentors/leaders; the most influential was Keith Krach. Keith truly knew how to motivate and bring out the best in people. I loved our All Hands calls and seeing the "Keith fist pump." The second inflection point in my career was when SAP purchased Ariba. It was with SAP that I saw a people-first approach at scale. While with SAP Ariba, I was extremely fortunate to have had the opportunity to work and engage with Alex Atzberger. Alex, like Keith, was a very inspirational leader who reinforced the need to empower others to drive business outcomes. If you don't know either of them, check out their LinkedIn pages.
https://www.linkedin.com/in/keithkrach/
https://www.linkedin.com/in/aatzberger/
How have your role and responsibilities evolved during your time at Rainmaker, a Cendyn Company?
My role has expanded quite a bit from initially joining Rainmaker/Cendyn in January 2017. I joined the company to help streamline, expand and run the Commercial Operations function. Shortly after joining, I was asked to be COO of Rainmaker Hospitality. Today, post-acquisition, Tim has asked me to manage the entire Rainmaker business.
What are your main responsibilities as Rainmaker General Manager at Cendyn?
My #1 priority is working with the Rainmaker team to ensure we're having fun while we close new business, take exceptional care of our existing customers and integrate into the larger Cendyn family.
What's the most interesting, exciting, and enjoyable part of your job?
For me, it is getting to work, on a daily basis, with the talented women and men of Rainmaker to drive actual business value and results for our amazing customers!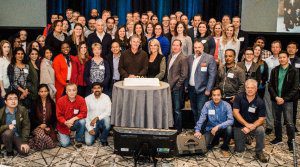 What do you observe as some of the hottest topics that interest hospitality insiders the most?
For me, we are in a unique place in time where we have access to unlimited amounts of data that we can leverage to provide consistent, world-class personalization experiences, at scale. We, as consumers, demand it and Cendyn is in a unique position to deliver it to the hospitality industry.
A lot of us who work in the hospitality industry are passionate about traveling. So, what's on your bucket list for travel?
My mother is from Japan, so I'd really like to visit Japan to see where her and my late grandmother grew up.
Your career must have taken you to many places in the world! Among your leisure and business trips, what's your most memorable travel experience?
My experience visiting Prague was amazing. Prague has such a rich history and the entire city is filled with mind-blowing architecture. The people are some of the friendliest I've come across and I could not get over how clean the city was. If you haven't been, make the time to check it out!
How do you plan and prepare for your leisure trips?
Lucky for me, my wife is a big planner (aka OCD) so when I go on leisure trips, I make sure they include the wife.