Jan 7, 2021
PriorityQ: send ultra-personalized communications with our new one-to-one email composer
PriorityQ: send ultra-personalized communications with our new one-to-one email composer
Nowadays, extremely loyal guests expect hotels to know who they are and what they want. They look for tailored information, bespoke offers, experiences and recognition relevant to them, at every touchpoint. To meet these requirements, marketers and reservations staff must define new approaches to engage and add even more personalization to their guest communication strategies. Cendyn's new PriorityQ is the latest addition to the suite of personalization tools that offer the high touch, bespoke treatment your Priority guests expect.
PriorityQ allows you to segment your top tier guests and edit your transactional emails before they are triggered. Using our one-to-one email composer, your priority guests will feel like VIPs every step of the way. Individually craft bespoke messaging for each guest by showing them customized content or specific messages about your hotel or services based on their needs and unique behavior.
PriorityQ gives you the control to stay relevant and top of mind with your loyal and top tier guests. If you'd like to find out more about PriorityQ and how CRM can help you, schedule a demo today!
REQUEST A DEMO TODAY!
Benefits from PriorityQ with one-to-one emails
The new stand-alone PriorityQ area is where you'll edit and send one-to-one transactional email communications independently of creating campaigns. Here you can search for an upcoming reservation by either booked dates or arrival dates.

The new PriorityQ details page displays a summary of the guests that did not receive an automated transactional email. Save time by filtering the results by name, email, reservation number and more. Here you can select a guest reservation to customize the email you'll send specifically to that guest.
Achieve ultra-personalized communication with PriorityQ
PriorityQ gives Marketers and Reservations staff just what they need to effectively tailor VIP communications and edit transactional emails. From the campaign dropdown, select the specific confirmation, modification or cancellation email campaign you want to send the guest. Edit and tailor your ultra-personalized messaging including the reservation details or insert add-on restaurant reservation details, spa bookings, local activities around the property and more. The content is customizable to suit your personalization efforts.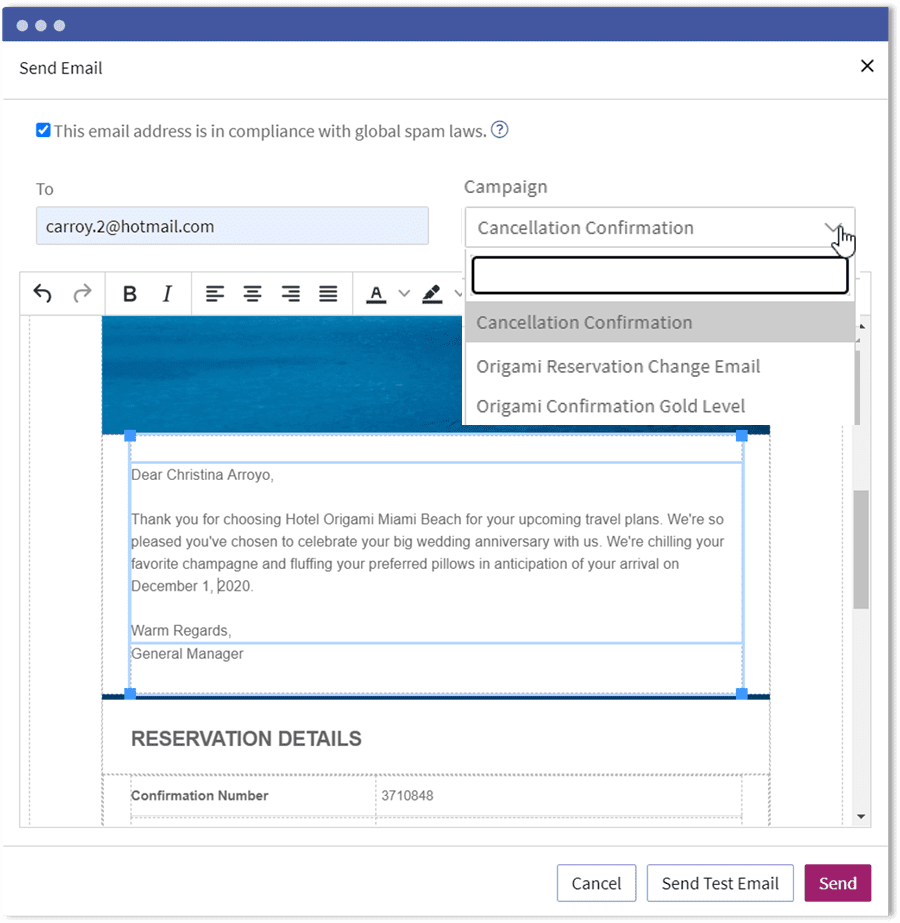 What can I use PriorityQ for?
PriorityQ adds yet another key component to your personalization toolkit so you can ensure you're delivering an optimal experience to your top tier guests throughout their travel journey.
Segment your database using Audiences and save PriorityQ for your top tier guests expecting bespoke or tailored information ready for their stay.
Edit confirmation, chance or cancel emails before they are sent! After a booking is made, use PriorityQ to include additional, bespoke reservation details or add-on restaurant reservation details, spa bookings, local activities around the property and more. After a booking is cancelled, use PriorityQ to send a targeted win-back offer to book a stay for future dates.
In addition to being able to view guest information, and reservation numbers and dates, you'll also be able to see when the guest's reservation was last updated, and, if it was cancelled, the date of the cancellation.
A guest had questions when booking by phone? No problem! Use the PriorityQ to edit their confirmation email and provide relevant information for the guest.
Show your guests how important they are with truly personalized one-to-one communications. PriorityQ gives you the control you need to ensure your top tier guests feel extra special before they've even arrived.
If you'd like to find out more about PriorityQ and how CRM can help you, request a demo today!
Resources
Related resources