Jul 2, 2017
The power of email automation
The power of email automation at hotels
Automated transactional emails can be the cornerstone of a hotels' communication strategy – they share details about the transaction, include all reservation information and hotel details to ensure the guest has everything they need. They can also be automated from a number of services such as the hotel PMS or CRM and provide the customer with what they need at the time of booking. Most people believe this is where automation ends and that any other communication will be made once they've checked in, but this is just where it begins.
Once a guest has signed up to receive information from your hotel or carried out a transaction with your hotel, they have consented to receive information from you, either in the form of email or by other means. We suggest you use this consent wisely! People are bombarded with marketing content and information from every avenue imaginable, so it's easy for emails to get drowned out in all the noise. To prevent your emails from heading to the trash or the spam folder, we recommend tailoring your communications via automation to make sure they are relevant and personal to the recipient. A great way to ensure relevance, and to keep your subscriber/guests attention along the way is with email automation.
WHAT IS EMAIL AUTOMATION?
Email automation is a schedule of emails that are triggered automatically based on a set of criteria – that criteria being either a timing and/or another type of unique identifier(s). These unique identifiers, or triggers, are what can help ensure your information is tailored specifically to the recipient. Once the automated email is set up and a recipient meets the criteria defined by the email, the email is triggered and sent automatically. The more people meet the criteria, the more emails are sent, all without you having to lift a finger!
WHY IS EMAIL AUTOMATION IMPORTANT?
Email automation has been seen to be powerful across a wealth of businesses, from generating new sales to nurturing already existing customers. From a marketing perspective, I'm sure you have endless lists of contacts from different sources that you reach out to on the odd occasion with a beautifully designed email marketing campaign. But does that always bring about the results you'd like to see? Email automation has the power to help convert possible leads to customers and help you delight existing customers. As mentioned in previous posts, what customers want to see is information that's relevant to them. By learning about their interests (via booking and survey data) and using that to create an automated email, it's possible to drive revenue through up-sell opportunities, improve net promoter scores and drive direct bookings.
HOW CAN I USE EMAIL AUTOMATION?
It can be used across a broad spectrum of your engagement strategy; communicating with guests once they've made a booking, sharing information with guests prior to their arrival, interacting with guests once they've checked out, inviting them to book again in the future or informing them of upcoming events/activities that may interest them. The key to their success is to ensure each email is segmented in the correct way and each email is personalized and relevant to the recipient. Here are a few examples:
Target couples staying for a romantic weekend getaway:
Timing of email: 2 weeks prior to check-in
Filters: Booking package = Romantic weekend getaway, No. of guests = 2 adults (no children)
Content of email: Offer champagne on arrival, chocolate covered strawberries on their first-night stay, extended check-out options and 'Romantic view' room upgrade options
Send offers on golf rental/purchases: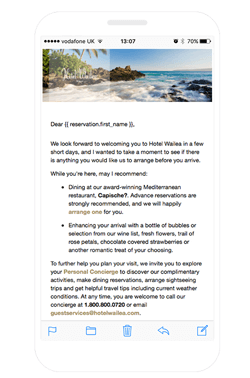 Timing of email: 3 weeks prior to check-in
Filters: Booking package = Golf package, length of stay = more than 3 days, no. of guests = families only
Content of email: Family golf rental offers for rentals of 3 days or more
Provide destination guides for cities and offer packages for tours:
Timing of email: 1 week prior to check-in
Filters: length of stay = less than 2 nights
Content of email: Guide on what to do in [insert city] in under 48 hours
Share online surveys with guests post-check-out who stayed in specific rooms: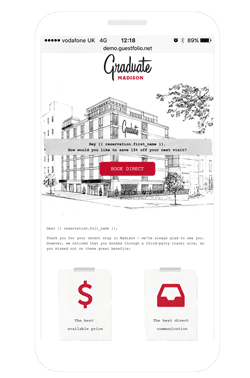 Timing of email: 3 days after check-out
Filters: Room number = 3, 4, 5
Content of email: Survey which asks specific questions about the specified rooms
Invite guests who booked via an OTA to return to the hotel and book direct:
Timing of email: 5 months after check-out
Filters: Booking code = booking.com, Expedia
Content of email: Offer incentives for guests to book again with you direct, offers can include free wifi, complimentary champagne on arrival and/or a discount code for the booking
HOW DO WE KNOW EMAIL AUTOMATION IS SUCCESSFUL?
At Cendyn we analyzed 60 million emails over the period of 1 year and saw that automated emails were over three times (17%) more likely to be clicked than an email marketing campaign (5%). We also found from this analysis that of those that clicked the emails, 18% went on to book a reservation or order a service from the hotel.
ARTICLE SUMMARY
While we understand that setting these type of emails up can take time, what we should also remember is how little maintenance these emails require once they've been set up! A small investment for a big return. So, remember:
Email automation allows hoteliers to tailor and personalize email communications to subscribers and guests
Use unique filters and timings for each email so every type of subscriber and guest can be communicated to with information and data that are relevant to them
If you'd like to find out more about email automation, speak to one of our specialists. We'd be happy to arrange a demonstration or share some more samples with you
Resources
Related resources