Apr 1, 2019
Meet the Cendyn Team: Travel chat with Neelam Sen
Meet the people behind Cendyn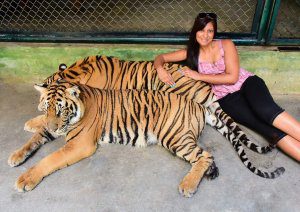 Name: Neelam Sen
Title: Product Services Manager
How long have you been traveling? 10 years
How do you avoid getting sick while traveling? Take anti-nausea pills for the flight/long drives. Drink only bottled water. Avoid eating fruits in foreign destinations. For meat, I tend to eat mainly chicken.
Aisle or window? Window seat for short flights to see the view during takeoff and landing. Aisle seat for long flights so I can get up to stretch my legs/back.
Tips on how to take a nap on a plane? Have some wine/alcohol; use a neck pillow so you don't strain your neck and adjust your seat back so you're more comfortable.
What's your favorite airline and hotel? Emirates Airlines because the seats in Economy are spacious: all seats have a TV screen/USB port and meals/snacks/drinks are provided. For hotels, Marina Bay Sands in Singapore and Atlantis the Palms in Dubai.
Best way to overcome jetlag? Try to adjust your sleeping time to the destination time zone. Don't take naps; only sleep at night time.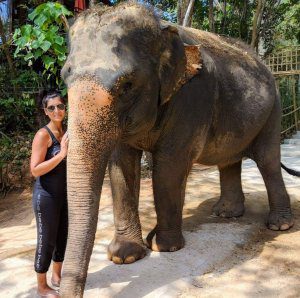 What is your favorite/worst thing about traveling? A favorite is visiting the attractions and trying authentic foods. Worst is leaving my 152 lb. Bernese Mountain dog at a Pet's Hotel for boarding/daycare (even though he is very well taken care of and loved by all the females, I just miss my big bear love!)
What is your longest trip to date? This February, we spent 11 nights in Dubai, Singapore and Thailand. It was a total of 6 flights and 50 hours of flying. I can't believe I survived!
Do you believe you don't know someone until you have traveled with them? No, my husband and I have been married almost 10 years now and we started traveling when we got married. You do see different traits of each other in a new environment – how you adapt to the change and how adventurous you might be, but it does not necessarily mean you don't know that person. Maybe if your friendship/relationship is new, then you learn more about the other person. My hubby is my GPS!
What is your travel horror story? In Aruba on our second day, we went to explore outside the Riu resort and stepping off the curb to cross the street I sprained my ankle! I spent the day in bed icing it and I hate wasting time on not exploring!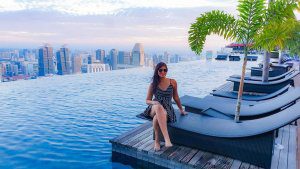 Favorite destination and why? Singapore because it was a magical experience! We stayed at Marina Bay Sands, which has an infinity pool on the 57th floor with an amazing view of the city and we even saw fighter jets fly by! Their attractions Gardens by the Bay, Flower Dome and Cloud Forest were very cool –unlike any other attractions I've seen. The food was also very flavorful and tasty.
Resources
Related resources