Feb 2, 2018
Use technology to improve the guest experience
Use technology to improve the guest experience before arrival
Using technology to own the digital conversation has become the most important aspect of most hoteliers' jobs. It leads to increased direct engagement with the guest, an influx of guest conversion from unknown OTA bookings to real known guests, and ultimately an increase in future direct bookings. From the moment that guest makes a booking it's your time, as hoteliers, to shine! And in this latest blog, we'll look at how easy that is to do right up until they check-in.
Google identified that one of the top five most travel-related search terms was 'what to do in [destination location]'. Travelers want to plan and book in advance, and they want this information at their fingertips on their mobile devices and desktops. Dara Brady, of Ryanair, also shared his insights on the customer journey in a keynote recently and stated:"What customers want is communication, information, and control." Simple! Well, sort of….the key is using this knowledge and pairing it with technology in the right way.
Below we outline what a perfect guest experience is to us, and how easy it can be to execute at any type of property. Using these key elements to drive engagement, provide information and put the power of the guest experience and travel journey at the guests' fingertips allows hoteliers to drive brand loyalty, revenue, and guest retention.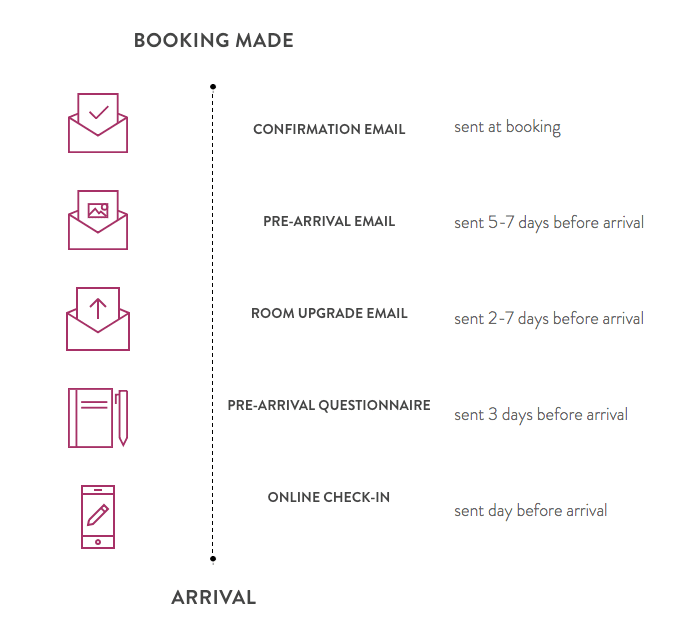 Using the above list of emails, coupled with the below top tips is an incredibly effective way of using technology to enhance the guest experience.
1. USE DESTINATION MARKETING BEFORE THEY ARRIVE
A digital, or mobile concierge as we call it at Guestfolio, allows guests to browse at their leisure all the personalized and recommended activities, dining options, spa treatments, golf services etc. and then book directly with the hotel via the platform. It's a great way of showing off all that is to offer in the local area, at your resort or just what locals recommend. This level of customer service builds anticipation for the guests as they can see what's in store for them as soon as they arrive. It allows the hotel to learn about their guests' preferences and use this information to tailor the guests' stay and use in future marketing communications.
2. COMMUNICATE THROUGH PERSONALIZED EMAIL AUTOMATION
Automated pre-arrival emails allow the hotel to design, tailor and send beautiful branded emails to their guests without any manual work. On average at Guestfolio, we see guests open and click their automated emails to access the mobile concierge six times before they arrive at the hotel. This improvement in engagement with the guest before arrival drives key marketing goals for the hotel, such as brand loyalty, awareness, and revenue.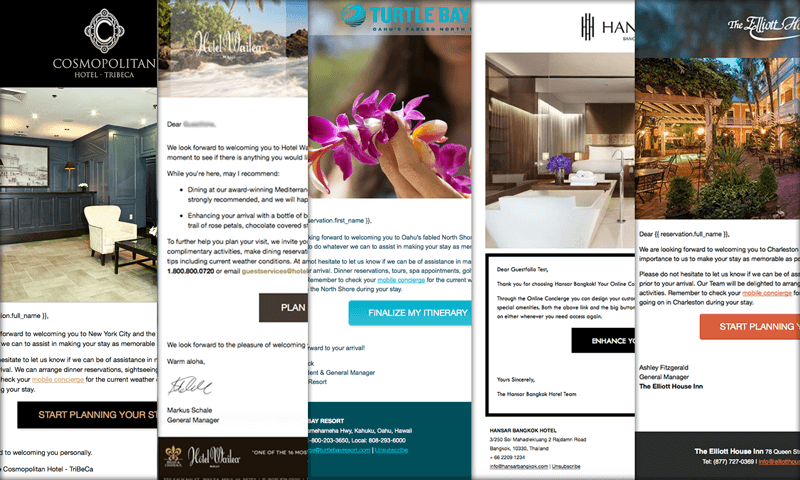 3. KNOW YOUR GUESTS
Using information gathered from automated email responses, mobile concierge requests and pre-arrival questionnaires, allows you to build the most robust yet dynamic guest profile possible. This unique ability to store and use data like this for guests enhances marketing communications and drives guest retention over time.
IN CONCLUSION
Embrace your guest engagement, hotel marketing or CRM platform. Discover how to utilize every corner of it and engage with your guests. Driving conversation between yourself and the guest is vital, and using technology to instigate that is what guests want.
Use branded communications to engage with your guest before arrival
Provide a tool for them to digitally plan their stay
Learn about their preferences and reasons for travel, and use this to your benefit
Build a guest profile along the way
Resources
Related resources