Optimize your total hotel revenue with Grouprev
Maximize the value of each group and event space with this demand-based group pricing and forecasting tool.
Group forecasting is huge for us because we do so much group business and that's growing. With group forecasting, we'll be able to be pickier with group and will be able to really refine our pattern management so that we can yield around transient more effectively. We can also forecast what kind of group is coming in and so we can really strategize what is the best mix of business for us.
Robust group forecasting tool
Built using the core strategy of Guestrev's transient forecast tools, Grouprev provides an unconstrained view as well as projections into group business at the micro-segment level.
Respond to RFPs with confidence
Presented with a floor, optimal and ceiling bid rate, sales managers can dependably quote a rate that is based on the expected total revenue and winning probability at the micro-segment level.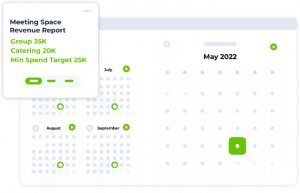 Maximize total hotel revenue and profit
In addition to being captured and factored into the displacement value, the ancillary profit is also considered in the total value of any group opportunity. Hotels can define their ancillary categories and corresponding profit margins.
Total meeting space management
Simplify the "catering free sell" process using the Free Sell Calendar. Set rules to "open" and "close" your function space for catering-only business while establishing a booking target per function room.
Resources
Related Articles