Increase conversion rates and direct bookings with Pegasus Booking Engine
Convert lookers into bookers with our responsive, powerful, intuitive, and elegant booking engine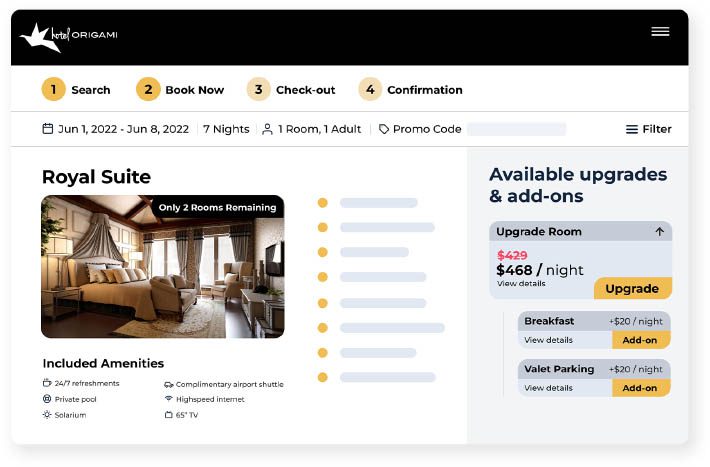 BELLSTAR HOTELS & RESORTS' SUCCESS WITH CENDYN
Increase in website conversion rate
Increase in overall revenue
Drive more direct bookings and cut down on OTA fees
Our booking engine's superior merchandising capabilities can help you convince buyers to book now with urgency messaging, time-bound marketing taglines and strike-through pricing. It also creates opportunities to increase ancillary revenue with features such as targeted add-ons and upgrades. With Rate Match®, you can know exactly how your current rates compare to OTA sites and automatically match lower rates found on third-party channels, in real time – eliminating any need for a guest to book through another website.
Increase conversions on your website
Our powerful booking engine is packed with features designed to optimize conversions, including automated email retargeting, scarcity, popularity and urgency messaging, auto-generated landing pages and multi-property cross-selling capabilities.
Cendyn's booking engine also allows you to create flexible, multi-layered promos based on various criteria in just minutes, without the need for new rate plans. Easily combine multi-dimensional criteria, such as booking and stay, to create and run offers on a custom, recurring timeframe that best suits your business needs.
Resources
Related Articles