Guestfolio CRM success story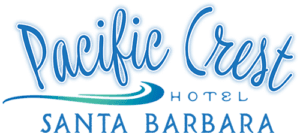 When Pacific Crest Hotel Santa Barbara first started using Guestfolio CRM back in 2016, they had a similar issue to many hoteliers, they needed a stronger presence online, namely via review sites, that showed what a great property it was. They had reviews coming in all the time but not enough for them to stand out from amongst their competitors on one of the world's biggest review sites – TripAdvisor.
We all know the TripAdvisor algorithm works in favor of properties who see recent, frequent and high review volumes but many hoteliers know that getting this perfected, especially if you're a small independent property, can be challenging. Using TripAdvisor's Review Collection with Guestfolio CRM, however, we see examples of hotels achieving great results every day, and our customer Pacific Crest Hotel Santa Barbara – is a great example of this.
By using a combination of excellent customer service, seamless guest experience, the right tools and tailored guest engagement, the team at Pacific Crest Hotel Santa Barbara were able to achieve what some hotels would think is the impossible: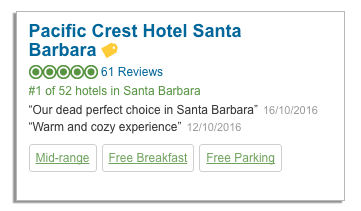 At the time of activation with Guestfolio CRM back in 2016, they ranked #41 in Santa Barbara. Upon reviewing 3 months later, Pacific Crest Santa Barbara was sitting #1 in Santa Barbara on TripAdvisor.
Following their initial leap to first place, two years later they now sit at #4 in Santa Barbara, a continuously fantastic result for the team.
HOW DID PACIFIC CREST HOTEL SANTA BARBARA ACHIEVE THIS?
First and foremost, it's safe to say that all the guests who shared their feedback were very impressed with their overall experience – they clearly provide wonderful customer service and a beautiful place to say. Teaming this up with Guestfolio CRM, the team at Pacific Crest Hotel Santa Barbara were able to engage with their guests using pre-designed, personalized automated emails, an online survey platform, survey reply templates and a TripAdvisor integration.
Their key to success lay in their approach to their guests and how that fitted into the TripAdvisor algorithm:
Automated emails: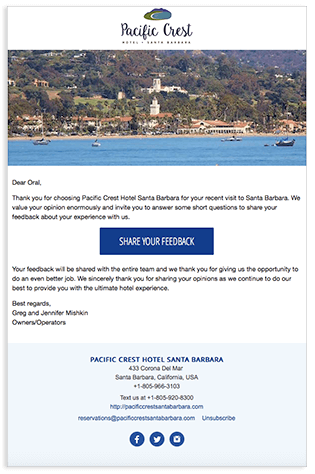 Using branded, personalized automated emails to communicate with guests, Pacific Crest Hotel Santa Barbara scheduled an automated email to go out to all guests 3 days after check out. This email went out to all guests and could be viewed on any device. With an average click-through rate of 15%, they continue to see exceptionally high engagement rates from many guests.
Online survey:
The automated email linked through to a mobile responsive online survey. Short and to the point, this survey could be completed at any time on any device. Using our recommended suite of survey questions, the team were able to review all scoring and comments immediately and reply to every response.
One of the key questions included in their survey was the Net Promoter Score (NPS). This question asks guests "How likely are you to recommend Pacific Crest Hotel Santa Barbara to a friend or colleague?" allowing the hotel to gauge not just the guests' perception of their stay but how they would share this with others.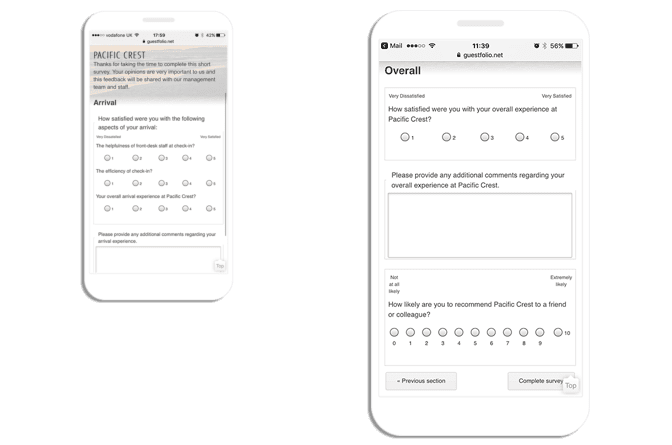 With an NPS score of 92 and an overall satisfaction score of 97%, we could see that guests were continuously happy with the level of customer service and their overall experience at the property.
TripAdvisor integration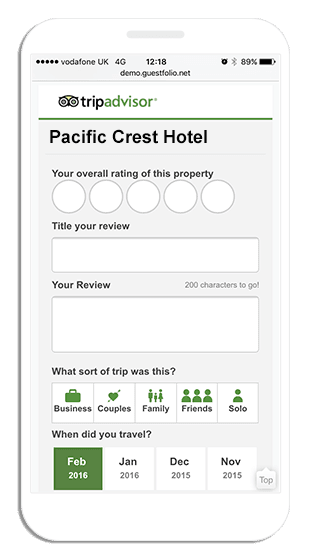 Once a guest had completed their survey, they were immediately asked if they would like to post a TripAdvisor review. The review could be posted there and then, without navigation to TripAdvisor's website and without logging in. Furthermore, guests without TripAdvisor accounts could still post reviews.
Following submission, the reviews were posted to TripAdvisor and the Guestfolio CRM dashboard simultaneously. This allowed the team to review and respond publicly via TripAdvisor to that guest. TripAdvisor state that responding to reviews doesn't directly impact a hotels' ranking however it does show future guests the level of customer service that can be expected.
PUTTING IT INTO PRACTICE AT YOUR HOTEL
This method of communication and integration allows hoteliers to see not only more engagement from their guests via the survey and automated email but also see reviews posted more frequently. This winning combination has helped many hoteliers improve their TripAdvisor ranking and visibility online but remember, it all comes down to the following fundamental must-haves:
Quality guest experience
Engaging with guests via the channels that work for them
Responding to your guests when it matters
Want to find out how you can implement a TripAdvisor integration at your hotel? Contact us now and we'll arrange a free consultation for you.