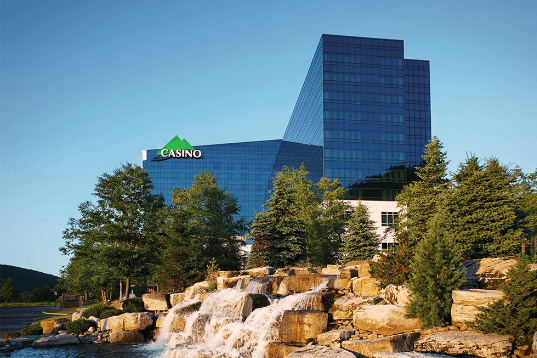 About
Seneca Gaming Corporation (SGC) is a wholly owned, tribally chartered corporation of the Seneca Nation of Indians, which operates the Nation's Class III casino gaming properties. The corporation operates three premier gaming and entertainment destinations: Seneca Niagara Resort & Casino in Niagara Falls, NY, Seneca Buffalo Creek Casino in downtown Buffalo, NY, and Seneca Allegany Resort & Casino in Salamanca, NY, as well as the award-winning championship Seneca Hickory Stick Golf Course in Lewiston, NY. Across all three world-class facilities, guests are offered more than 5,100 slot machines, 125 table games, over 1,000 deluxe rooms and suites, luxurious spas & salons, award-winning fine dining, and high-end retail outlets. Millions of guests visit the three Seneca properties each year.
Customer Story
Seneca Gaming Corporation
Seneca Gaming Corporation's success with Cendyn's Guestrev
Leveraging technology and revenue management strategy during recovery
THE CHALLENGE
Like countless other casino resorts, SGC went through numerous challenges last year stemming from the COVID-19 pandemic. As the pandemic took hold across the globe, the Seneca Nation decided to close its three casino properties on March 16th 2020. SGC immediately set out to determine how to move forward safely, how to manage the closures from a business standpoint and how to take care of guests and protect staff upon re-opening.
In addition to enacting new protocols, cleaning procedures, operational changes, and customer-facing services during the closures, SGC needed assistance with both short-and-long-term forecasting to help with their phased re-opening plans as well as new strategies for revenue management while dealing with reduced staff and uncertainty about how and when their facilities would re-open.
THE SOLUTION
A Cendyn client since 2008, Seneca Gaming Corporation understood that the path to a full recovery would require agile planning as restrictions changed, but they also knew they had an experienced hospitality partner ready to help them make informed decisions and adapt strategies as needed.
"The support of Cendyn's software and the dedicated account team was critical to the success of our re-opening. As soon as I was back in the office, I scheduled a call with our Cendyn support team, walked them through the scenarios of where we were and where we needed to be, and more importantly, what we were about to embark upon. We brainstormed strategies and received excellent guidance to help get our systems up and running for the phased re-opening."
– Corey Stanley – Director of Revenue Management, Seneca Gaming
With historical data suddenly irrelevant, SGC needed to look beyond normal forecasting and seek creative solutions that took other areas of guest value into account.
"Strategically, we had to look at both short- and long-term forecasting with Guestrev and adjust that to the current market demands without any historical data to work from. The industry knowledge I received from the Cendyn team steered us well. Only a month or two after re-opening, we began to see a great response from the systems we put in place as well as positive responses from our customers. We originally re-opened in mid-July, and by August/September, were back to a really solid position. From a revenue management perspective, we've seen very responsive numbers based on the strategy we implemented in June with the recommendations from the Cendyn team. It's been an upward trajectory ever since."
– Corey Stanley – Director of Revenue Management, Seneca Gaming
Cendyn helps optimize revenue management and run the business more effectively with state-of-the-art technology to help hotels, resorts, and casinos increase demand and engage with guests.
Deep understanding of customer base and guest values - "There's only so much you can do with spreadsheets but having a system that can look at our customers' spend and value, and use analytical information to drive demand and response accordingly is priceless. Guestrev has been quite effective in that sense, especially when paired with the expertise of the Cendyn team."
Strong account team with expert industry knowledge and the ability to both brainstorm and implement solutions.
From the implementation to the re-opening to now, we've seen a significant increase from where we were a year ago. We weren't expecting that amount of growth and anticipated a much slower start once we reopened, so it really speaks to what's possible when you have the right strategy, systems, and team in place.
Resources
Related resources