About
With provocative design, intuitive service and imaginative art encounters, each Viceroy hotel is a reflection of the local culture and a uniquely authentic experience. With sought-after destinations around the world, we inspire travelers to create their own singular journey and remember to live.
Customer Story
Viceroy Hotels & Resorts
Viceroy Hotel Group achieves a 15X ROAS with Cyber Monday campaign
Cendyn launched a brand-wide multichannel campaign for Viceroy Hotel Group for Cyber Monday to promote bookings during the upcoming need periods.
THE CHALLENGE
With Cyber Monday sales growing exponentially each year and travel related-purchases taking more market share, it's no secret that this holiday is a key revenue-generating opportunity for hotels. Cendyn and Viceroy Hotel Group set out to create a brand-wide multichannel campaign that would appeal to consumers across multiple devices and touchpoints.
THE SOLUTION
Viceroy Hotel Group promoted the campaign through the brand and through individual properties. SEM and social media were used at the property level while banner ads, GDN ads, TripAdvisor ads and more social media ads were used at the corporate level.
After the 14-day sale, Viceroy Hotel Group received over 1,600 bookings making it their best Cyber Monday Campaign to date.
Look at the big picture
Although social media can have a lower ROAS than other digital marketing initiatives, it plays an important role in increasing awareness and driving more users to the offer.
Extend the sale
Cyber Monday attracts a lot of shoppers, but it also attracts competition from other sales. Beginning the sale early and extending it beyond Monday can help hotels compete and capitalize on campaign successes.
Experiment with video
Video is constantly spoken about in digital marketing yet is still something not all hotels utilize. Adding video into your advertising campaigns can captivate travelers online and tell a compelling story about your brand and hotel.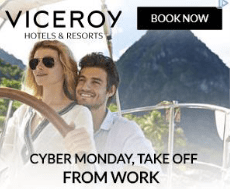 This case study was completed before the Cendyn and NextGuest merger but Viceroy Sugar Beach can now benefit from the suite of Cendyn products.
Resources
Related resources