Apr 7, 2023
Google Search adds new travel features
Google announced that it's introducing three new Search features to make it easier for users to research hotels, book their next plane ticket and discover things to do while on vacation
On Monday, April 3rd, 2023, Google introduced a new set of features to it's search engine aimed at helping users more easily book tickets and accommodations. Here is what hoteliers need to know about some of the first batch of features:
Hotels
Swipeable stories – On mobile, clicking a hotel listing will display a slideshow of hotel room photos that the user can view by swiping. The user can also see related information such as reviews and details about the area.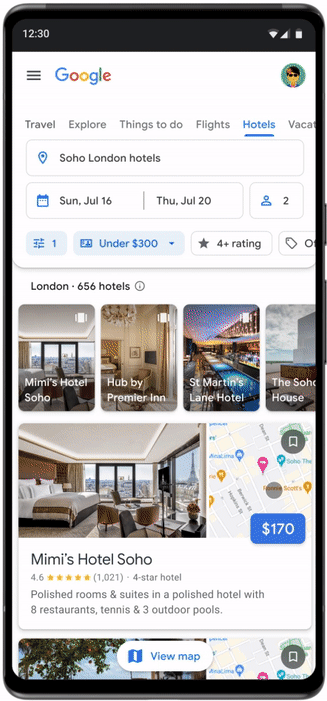 Flights
Enhanced Google Flights – Google Flights will be able to estimate when a ticket reaches the lowest possible price. It will then make this information available to the user by displaying a 'Price Guarantee Badge' to the relevant listing. If you book with Google, the company will watch the price, and if it drops, you will get the difference back.
Activities
Embedded ticket prices – Looking up a landmark or tour will now bring up search results with ticket prices embedded within.
Links to booking tickets – Search results will not include links to sites where tickets can be booked.
Find attractions easier – If you're on vacation and want to find attractions in the area, you can now search directly in search or maps and you'll find prices directly on the listing along with a link to book a ticket.
How do hotels implement these changes for hotel listings?
The changes were made by Google themselves and hotels don't have to do anything manually to see these features implemented.
EXPERTS IN HOSPITALITY
As Google Premier Partners, we're in the top 5% of agencies worldwide working with Google! Our team of paid search experts know the best ways to ensure your hotel brand stays at the top of the search engines to help drive conversions to your website.
SPEAK TO AN EXPERT
Resources
Related resources