Dec 2, 2022
Meet the Cendyn team: 5 minutes with Prashant Pathak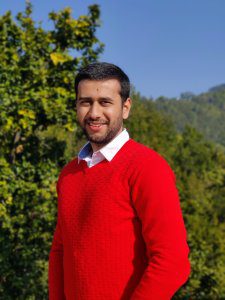 Name: Prashant Pathak
Title: Senior Business Analyst
Describe your role: I tell stories using data, and build dashboards for leadership to take necessary decisions in a timely manner.
Where are you located? Nainital, Uttarakhand, India
Tell us an unknown fact about where you are based: It was the summer capital of the United Provinces during the British era. The town has a strong colonial heritage with vibrant clusters of villas and bungalows. The town is known for its prestigious educational institutions and schools. According to mythology, the lake is believed to have been formed when the eyes of goddess "Sati" fell at this spot while her body was being carried by Lord Shiva after her death.
There are about five different smalls lakes in the vicinity and each lake has its own natural beauty. The beauty of all these lakes changes throughout the year and every time you visit any of these, it will not only change your mood but heals your body, mind and soul, and rejuvenates you from within. There are several trekking trails which you can cover and get a splendid view of these lakes.
What attracted you to Cendyn? I am from a beautiful hill station. After the pandemic I didn't want to leave my town and move back to city life. Cendyn gave me this amazing opportunity to work remotely, and it was love at first sight.
How do your strengths play into the work you do? I love data and finding insights from scattered data is my fun at work. I enjoy challenging projects and tasks which test my mental strength. Either the data should question me, or I will question the information.
Favorite Cendyn moment: It was my first meeting with one of my London colleagues, and it was just a day after the United Kingdom defeated India in the World Cup Semi-Final Cricket match. We talked about cricket, and it was the best icebreaker for me. And on top of that I'm a Manchester United supporter and he is an Arsenal fan. We only talked about sports for the first 15 minutes.
Define hospitality in your own words: अतिथि देवो भव also spelt Atithi Devo Bhava which translate to "The guest is equivalent to God".
Most memorable moment at a hotel: Every moment that I have spent with my friends and family, just sitting on the balcony of every hotel, enjoying the sunset or sunrise with a hot cup of coffee. When you leave behind your chaotic life and not bothered by any worries. I believe all those moments are memorable for me forever.
What do you like to do for fun? I love travelling and trekking. I have covered almost every near-by trek and most of the scenic places around. Love to go on spontaneous drives with family. Trying out new cafes and restaurants. I enjoy collecting different kinds of coffee and brewing them from one of my many coffee machines.
Parting words of wisdom: Live and let Live ☮️
Resources
Related resources