Oct 17, 2019
Cendyn and SevenRooms connect hospitality platforms
Integration unites hotel CRM + reservation & guest engagement platform for enhanced guest profiles, elevated on-property experiences & streamlined operations
Boca Raton, FL. — October 17, 2019 — Cendyn, the leading innovator in CRM, sales and revenue strategy for the hospitality industry, is proud to announce an integration partnership with SevenRooms, a data-driven operations, marketing and guest engagement platform for restaurant, hotel F&B, nightlife and entertainment operators.
The partnership empowers hotels to leverage the true revenue value of their best guests. With this integration, hoteliers can now see a guest's total spend across the entire property, including in-house restaurants, nightclubs, bars and lounges in addition to room and spa spending.
On the customer side, guests enjoy enhanced service during their stays, as hotel staff can easily pull up a single source of truth and cater to their every whim and desire, now including food, beverage and entertainment.
Moreover, hotels can offer more relevant, targeted and personalized offers and upgrades, not assumptions or one-size-fits-all promotions, based on a true "guestprint," which ultimately leads to more conversions and additional revenue.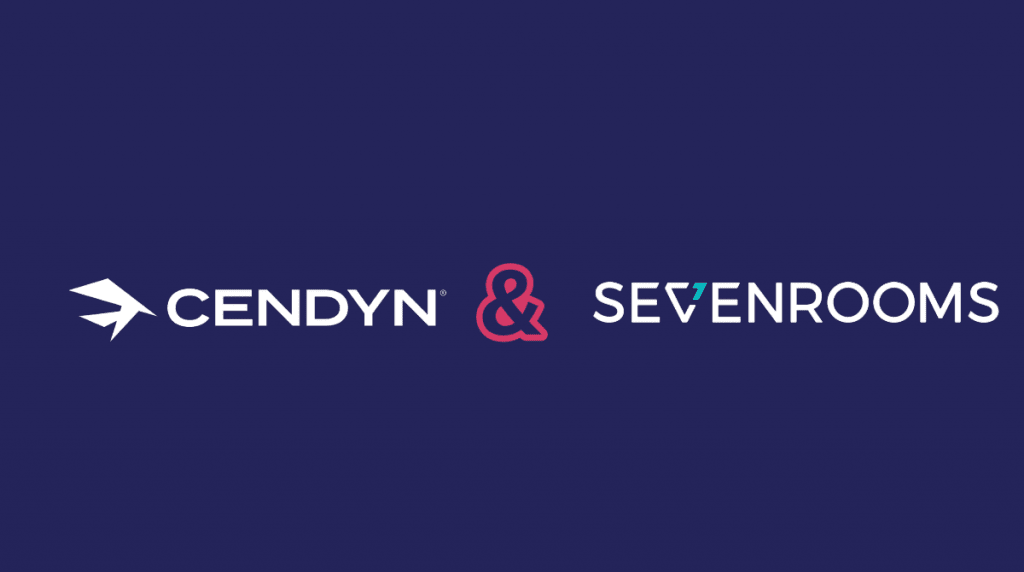 "Our partnership with Cendyn further delivers on our promise to operators to open up new ways for them to access and leverage their guest data to enable better on-property experiences and streamlined operations across the board," said Joel Montaniel, CEO & Co-Founder of SevenRooms. "With the rise in experiential, food-driven travel, F&B continues to be an important revenue stream for hotels. By connecting food and beverage spend across on-property restaurants and bars directly to a hotel guest in a CRM at both a property and group level, these brands can continue to create unforgettable experiences that will lead to loyal guests for life. This partnership is an exciting milestone for our two companies in creating a more connected hospitality industry."
"We're excited to team up with SevenRooms," said Tim Sullivan, President of Cendyn. "An integration between hotel CRM and systems that capture more data around guest activities, like dining and entertainment, are critical to creating memorable, high-end hospitality experiences. With some of the most innovative and forward-thinking hotel clients around the world, SevenRooms is a well-respected name in the business. Adding this integration to our solution was an obvious choice and a testament to our dedication to providing the most integrated CRM platform in hospitality."
Learn more about the Cendyn and SevenRooms integration in our Webinar Oct. 23 at 11 a.m. EST. Learn how to build a single source of truth based off of guest's food and beverage preferences and dig into personalization opportunities using your hotel's F&B outlets to gain data points. Sign up and register.
The bottom line:
Cendyn + SevenRooms integration allows hotels to use Cendyn's eInsight CRM and SevenRooms' reservation, seating & guest engagement platform seamlessly together.
Hoteliers can further personalize the complete guest experience and gain key insights that will build lasting brand loyalty.
By sharing data insights, the platforms help drive additional revenue, capture more robust guest preferences, and automate more personalized communications.
About Cendyn
Cendyn is the leading innovative cloud software and services provider for the hospitality industry. With a focus on integrated hotel CRM, hotel sales, and revenue strategy technology platforms, Cendyn drives sales, marketing and revenue performance for tens of thousands of hotels across the globe. The Cendyn Hospitality Cloud offers a complete set of software services for the industry, aligning marketing, sales and revenue teams to optimize their strategies and drive performance and loyalty across their business units. With offices in Boca Raton, Atlanta, Boston, San Diego, London, Munich, Singapore, Sydney, Bangkok and Tokyo, Cendyn proudly serves clients in 143 countries, delivering over 1.5 billion data-driven, personalized communications on behalf of their customers every year. For more information on Cendyn, visit www.cendyn.com.
About SevenRooms
From neighborhood restaurants to international, multi-concept hospitality groups, SevenRooms is a hospitality platform that helps operators unlock the full revenue potential of guest data. Combining operations, marketing and guest engagement into one front-of-house solution, the platform helps operators to maximize profits, build brand loyalty and enable personalized guest experiences. Founded in 2011 and venture-backed by Comcast Ventures and Amazon, SevenRooms has dining, hotel F&B, nightlife, sporting and entertainment clients in more than 250 cities worldwide, including: Mandarin Oriental Hotel Group, Jumeirah Group, The Cosmopolitan of Las Vegas, Hard Rock Hotel & Casino, Standard Hotel, Rosewood Hotels & Resorts, Wolfgang Puck, Michael Mina, sbe, LDV Hospitality, Live Nation, Zuma, TAO Group, Bagatelle, Altamarea Group, Hakkasan, Chase Hospitality Group, Mercer Street Hospitality, JKS Restaurants and Corbin & King. www.sevenrooms.com.
Resources
Related resources