Jul 13, 2022
Insights: How your conversion rate is affected by parity performance
While case studies often provide valuable insights into a company or product, they can also leave a lot of room for interpretation and doubt about whether you can reasonably expect similar results for your organization. This is especially true for hospitality, which is why the best case studies encompass data from large and small properties, resort and city properties, branded and independent, casino and regular hotels, and so on. 
In 2021, Pegasus (now part of Cendyn) analyzed eCommerce performance across a data set of 67,000 availability searches across multiple hotels segments and sizes to determine the impact of parity performance on booking engine conversion rate, with the main goal of determining the following question:
How is your conversion rate influenced by the price of your hotel on major OTAs, without the presence of any direct booking or OTA comparison tools? 
In order to answer this question, we needed to access a relevant data set across large and small properties as well as resort and city properties.  We also needed to make sure that this data set was not influenced by our conversion optimization tools, so the analysis focused on Pegasus customers not yet using Rate Match®. This is what we found:
The Result: 56% higher conversion rate when direct rates were the same or better than OTAs
While the conversion rates themselves varied significantly across specific hotels and brands, the pattern was clearly visible, and it revealed the following insight: The conversion rate for availability searches in the booking engine when direct prices were at least equal or lower than one major OTA was 56% higher versus availability searches conducted when direct prices were higher than all major OTAs. 
For availability searches where the hotel direct rate was higher than major OTAs, we saw 16,260 visitors and 485 conversions – equating to a 2.98% conversion rate. For availability searches where the hotel direct rate was the same or lower than major OTAs, we saw 51,318 visitors and 2,393 conversions – equating to a 4.66% conversion rate.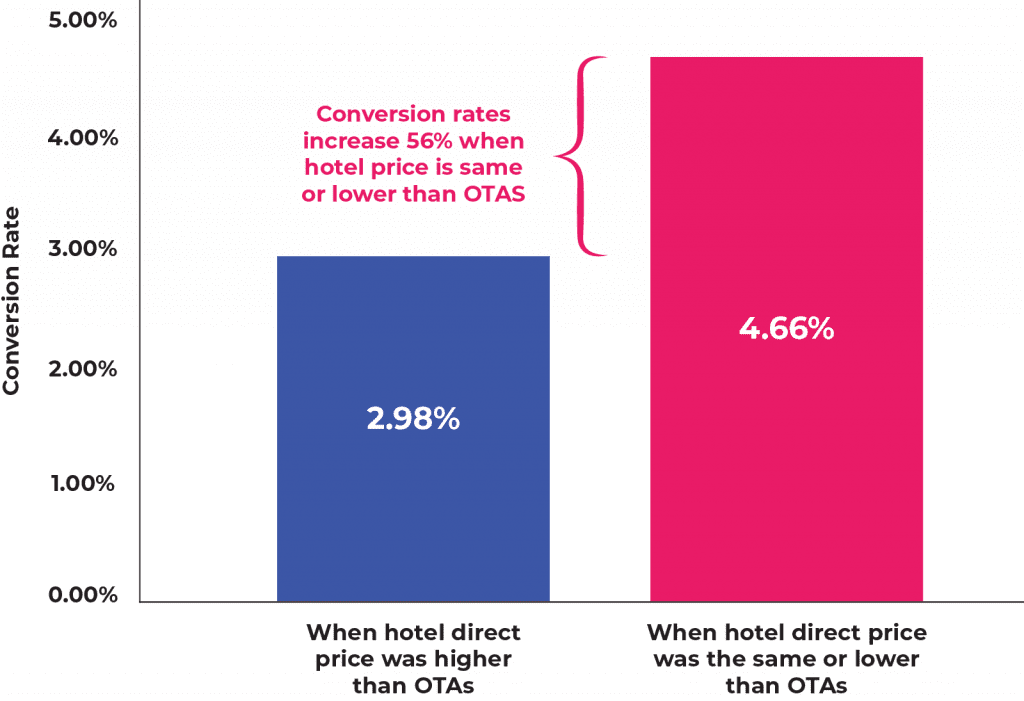 What are the implications for your hotels?
We have known for quite some time that the guest booking journey is multi-channel and can involve multiple steps and price comparisons, but with this research, it's clearer than ever that potential guests are comparing your hotel direct rates with the prices that they can get for the same stay dates for your hotel on major OTA websites. 
This also highlights the business opportunity available to hotels to improve parity performance. When we did a deep dive for one chain with about 500 hotels, we saw that even a 1% improvement in parity performance was worth about $1.8 million in additional bookings. How much additional direct revenue could you capture if you lowered the number of parity violations for your hotels and proportionally raised your conversion rates by 56%?
How does your parity performance compare?
Since the beginning of the pandemic, across the globe and including independent hotels and chains, our data indicates that the rate at which OTAs are undercutting hotel direct rates is subject to greater volatility than in the past. After a lull in OTA violations in 2020, we saw average violations across all hotels rise and in this most recent quarter (Q2 2022), on average 18% of all searches conducted by guests on hotel websites were undercut by major OTAs. That's a little more than one in every 5 searches. Are you equipped to track your own parity performance? How does your hotel parity performance measure up?
Inflation and Online Price Shopping
The importance of competitive pricing has never been more important for hotels. According to Google's June Partner Insights briefing report, "Online research is playing a critical role in consumers' financial decision-making as they deal with multiple crises at once, including inflation and a potential recession." With more and more consumers relying on search platforms like Google to find price comparisons and get the lowest rate possible, there is even more pressure on hotels to compete with OTAs for direct bookings during the online research phase.
Inflation is forcing consumers to make hard choices about what they can spend money on, and vacations are often one of the first luxuries on the chopping block. Potential guests who are still willing and eager to travel are actively looking for a great deal, making it pivotal for hotel revenue managers to create the right price for the right room at the right time. Consistently producing accurate and competitive pricing in this market is also dependent on having the right technology in place to know if and when your best price is being undercut by OTAs, as well as the ability to counteract that pricing as quickly as possible.
To help hotels drive more direct bookings and stay on top of OTA pricing issues, Cendyn launched Rate Match®, an innovative set of conversion optimization tools that shop your hotel's stay dates in real time on OTA websites to reveal parity violations across your distribution network. The tool sends out instant notifications when it finds a lower price elsewhere and it automatically matches or beats that price, enabling you to capture more bookings. You can also use Rate Match to give your guests the confidence to book directly by showing you have the same or better rate than the OTAs on your website and to include personalized messaging on your website that enables you to capture more bookings and drive substantially higher revenue per visitor.
If you're wondering whether Rate Match can really make a difference in your booking revenue, we've seen that on average, Rate Match delivers a 56% increase in conversion rates across thousands of hotels and geographic areas.
Resources
Related resources