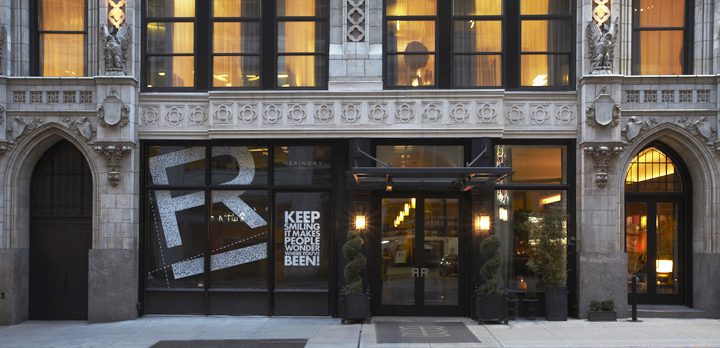 About
Refinery Hotel is a luxury 5-star property located in Midtown Manhattan's Garment District. This independent boutique hotel, located in the historic 1912 Colony Arcade building, features stylish loft rooms, the acclaimed Parker & Quinn restaurant, and the trendsetting Refinery Rooftop bar favored by both locals and visitors.
Customer Story
Refinery Hotel
Refinery Hotel finds success using Cendyn's full suite of digital services and distribution solutions
Flexible pricing features and expert client support from Cendyn lead to increases in direct website revenue
THE CHALLENGE
As one of the leaders in its comp set, the Refinery's biggest challenge was threefold:
Maintaining the necessary momentum to outperform competitors
Having a healthy mix of sales in order to reduce reliance on OTAs
Pushing volume from lower-rated segments to higher-rated segments
The Refinery used the full suite of Cendyn's solutions to address these challenges and stay ahead of the market.
"At previous hotels, I worked with a lot of brands, and enjoyed a lot of support. However, this often meant sacrificing when it came to flexibility and creativity. With Cendyn's support, instead of adjusting to follow a brand's cookie-cutter rules, I'm able to make things happen in a much more dynamic way." — Michelle Mu, Director of Revenue at Refinery Hotel
THE SOLUTION
Refinery's revenue management team was able to make use of Cendyn's Pegasus CRS and its flexible pricing features (as well as expert client support from the Cendyn team) to run creative, proactive marketing campaigns, and increase direct bookings.
THE RESULTS
Since implementing Cyndyn's processes in 2016, Refinery Hotel has experienced 20% average YOY increases in booked room nights, and 22% average YOY increases in direct website revenue.
Average Increase in Booked Room Nights YOY
Average Increase In Direct Website Revenue YOY
This case study was completed before the Cendyn and Pegasus merger but Refinery Hotel can now benefit from the suite of Cendyn products.
Resources
Related resources