Oct 28, 2020
Regional trends spotlight: hospitality and travel in APAC
Hospitality and travel trends driving the market in Asia-Pacific
The Asia-Pacific region was one of the earliest affected by the coronavirus. The region navigated the pandemic skillfully, using early lessons to establish a framework for prevention and mitigation. Today, APAC is placed favorably compared to some other regions on the map.
Even so, overall room occupancy and ADR for hotels in the region decreased to 33.9% and US$60.32, respectively, with RevPAR down 69.9% compared to last year (Colliers). And much of the recovery is centered on China, which relies less on international arrivals thanks to its large domestic travel market.
We've put together some of the current trends driving the APAC market. Things are changing quickly so this is more of a snapshot in time! To stay on top of the latest, be sure to rely on real-time data as you build your flexible model for daily operations. By keeping a close eye on these trends, you can adjust your approach as demand fluctuates in specific regions and segments.
Safety measures are top-of-mind
When it comes to booking considerations, it's clear that cleanliness and safety are central drivers of decision-making, in addition to pricing, cancellation policies, reputation and loyalty programs.
The top booking considerations according to Google's APAC research.
Yet, the perception and definition of cleanliness vary by country, which makes for a very complicated guest engagement strategy. For instance, Google researchers found that Chinese travellers view hotels as safer (42%) than vacation rentals (12%). This reflects that many travelers believe hotels are cleaner than short-term rentals due to their standardized global cleanliness procedures. Even so, many travelers feel more comfortable in vacation rentals and smaller hotels rather than branded hotels and larger properties, since smaller spaces mean better social distancing and fewer strangers.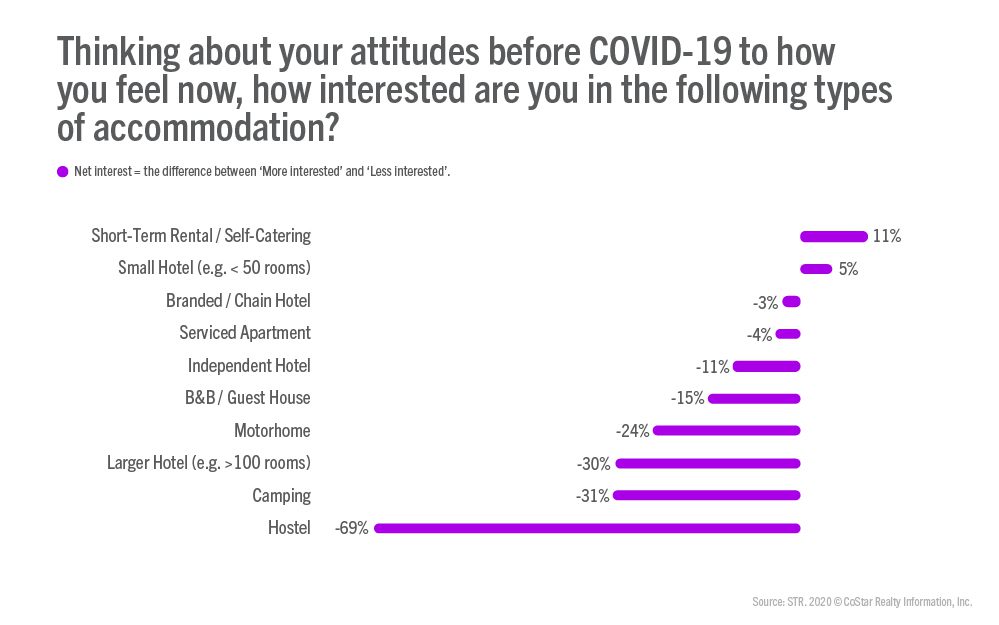 And Booking.com's annual global survey found that 86% of travelers in Thailand will only book accommodations with clear health and hygiene policies, followed by 77% in India, 76% in China, 75% in Vietnam, 74% in Hong Kong and 73% in Singapore and South Korea. That's all compared with a global average of 70%, showing that APAC remains focused on health and safety Asian travelers. Outliers include New Zealand and Australia, where 65% of travelers only book accommodations with clear cleanliness protocols.
OTAs gain momentum
Google's APAC travel survey found that OTA's are gaining momentum, with six out of ten consumers planning to book more regularly with online travel agents. That's nearly double the rate of growth on direct channels, which puts hotels in a precarious position when trying to drive lower-cost bookings through their websites and apps.
Last-minute air bookings on the rise
Similar to trends seen elsewhere, travelers in Asia are booking more last-minute than prior to the pandemic. For hotels looking to capture that last-minute guest, it's helpful to look at air booking trends to identify the ideal window to target travelers.
Per Amadeus' latest COVID-19 Travel Insights bulletin, domestic and international flight bookings have been made nearly 17 days closer to the travel date than before COVID. Here's how these trends play out regionally:
India: Travelers in this country are most likely to book last-minute, with flight bookings made only around 10 days prior to departure.
Thailand: Flights booked 21 days before departure, on average.
Singapore: Bookings made on average 25 days prior to departure.
For domestic flights only, nearly all countries had shortened booking windows, with two notable exceptions: Malaysia, which is booking 51 days in advance compared to 28 days pre-pandemic, and the Philippines, where the average booking lead time jumped by 22% for domestic flights since the pandemic began.
Regional stays more popular than city stays
Urbanites are decamping to rural areas for short weekend escapes and to get away from the density of larger cities. The urban exodus each weekend also puts more strain on hotels during those two days, with little midweek demand to augment the weekend occupancy spikes.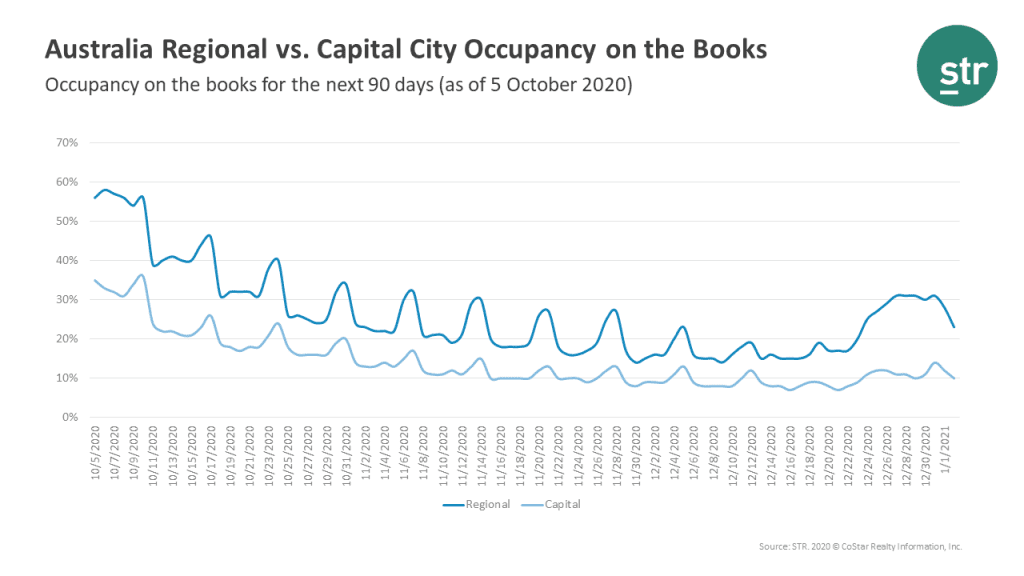 This trend also puts smaller countries at a disadvantage, as there are fewer domestic travelers available to support hotels that have traditionally relied on international arrivals. For instance, as the STR data shows, Japan's low occupancy rates were only boosted by the Silver Week holiday when domestic travel picked up. Countries with smaller footprints will increasingly rely on national holidays to goose demand — and continue to grapple with smaller pools of potential guests regionally.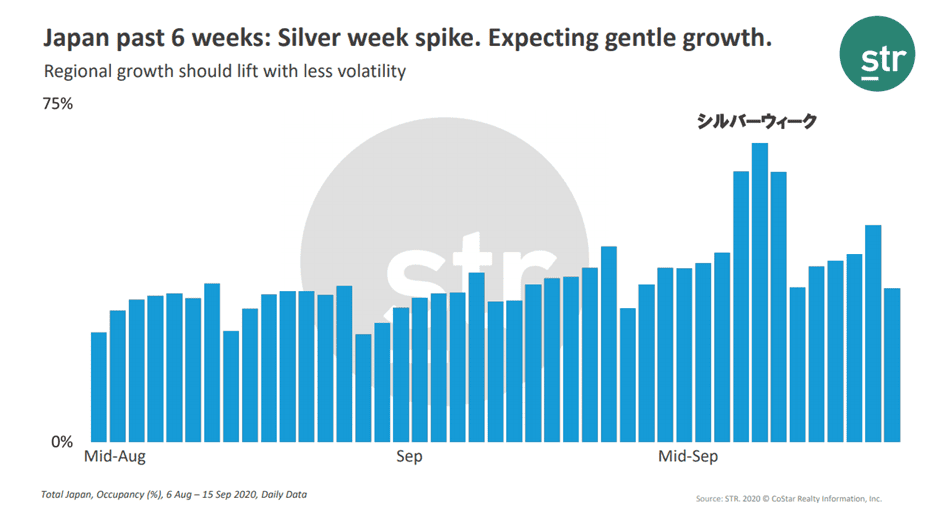 China rebounds to pre-COVID levels
During the Golden Week holiday, October 1st to 8th, China saw the volume of domestic flights exceed last year's record — and logged 600,000 weddings to boot! Consumer confidence is driving a rebound in demand for hotels across mainland China, which hovers around 70% occupancy rate — the highest of any country in APAC.
While much of this demand is leisure, China is also the first market globally to resume some semblance of corporate travel. Workers have returned to their offices and much of the country is "business as usual." The country is also in talks with Japan to allow free movement of business travelers, easing quarantine restrictions and accelerating the return to normal flows between the close trading partners.
Willingness to travel
APAC traveler sentiment is strong: 71% already have plans to travel, and 56% are looking to travel within the next three months, per a recent survey of Wego.com travelers. Another survey of luxury travelers from Small Luxury Hotels of the World found that 44% are planning a staycation, which was reflected in the 93% of reservations that originated in APAC were for local hotels.
The desire to travel is even greater among remote workers seeking to escape "work from home." Booking.com's global survey found that 68% of Indian travelers are considering working remotely from a different destination, followed by 60% in Thailand, 52% in Vietnam, 50% in Singapore and 45% in China. Hong Kong, South Korea, Australia, and New Zealand showed a bit less enthusiasm for the "workation".
For a comprehensive, up-to-date view of the travel status of individual APAC countries, check out this fantastic resource from Pear Anderson.
Resources
Related resources