May 3, 2021
Cendyn CMS: Powerful, effective content marketing for hotels
Cendyn CMS: Powerful, effective content marketing for hotels
Hotels are continually looking for ways to drive website engagement with robust personalization features and effective content marketing to turn lookers into bookers. One of the best organic ways to offer compelling content is through a well-run blog that speaks to potential guests in a friendly, honest and engaging way. Used as a platform to share informational and inspirational content, blogs can enhance your inbound marketing efforts, driving traffic to your hotel website and increasing brand awareness.
Behind the scenes, Cendyn's powerful Content Management System (CMS) now offers you the ability to seamlessly create, manage and post blogs using one single application. You can also organize blog posts in custom categories, archive posts, and easily feature posts throughout the website with as many categories and tags as you'd like. Set your hotel apart with unique content that potential guests and readers will remember.
REQUEST A DEMO TODAY!
Easily share informational and inspirational content
The new blog functionality in the Cendyn CMS allows you to choose from two responsive brand-matched templates and order your posts manually or have posts listed in chronological order. Add in-depth search engine optimization (SEO) information, meta descriptions and keywords to ensure your posts are found; pin popular posts or feature the latest by tagging under the settings category. The features are endless and now offer you the ability to quickly publish new blogs with an easy-to-use interface.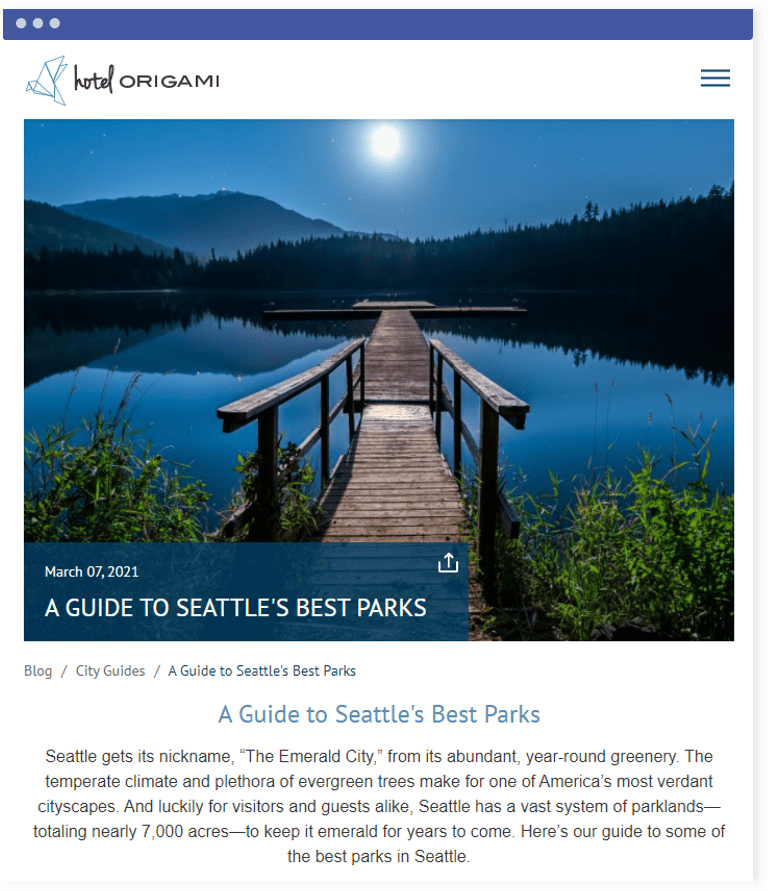 Entice guests to click and convert
Cendyn's CMS also offers the ability to use over 64 distinct targeting metrics to entice guests to click and convert on your website by offering more personalized content through our loyalty portals while leveraging CRM-specific metrics, such as RFM value, membership level, point balance and more. This bespoke technology leverages over 200 data points per session to deliver unique and relevant textual, visual and promotional content.
Cendyn CMS use case examples:
Inspire even the most seasoned traveler with relevant content throughout the travel planning journey. Craft powerful blogs that highlight your city, local points of interests and attractions to visit, so when it comes to guests researching what to do in a location, strong blog SEO will enable your hotel blog to be visible first on the search engine.
Using the Content Personalization Engine, use geotargeting metrics to share offers on your site for people who are based locally. You can also serve bespoke messaging based on other behavior metrics such as: total time spent on site, referral source, device type, country, URL visited and more.
Behind the scenes, Cendyn's CMS technology ensures all the essentials for seamless functionality, SEO and effective content marketing initiatives. If you'd like to find out more about Cendyn's CMS, request a demo today!
Resources
Related resources