Jul 12, 2022
eInsight CRM: New time-saving enhancements to build emails faster and simpler
The latest enhancements to eInsight CRM's email builder, Studio, will put precious time and confidence back in the hands of hotel marketers. Built to be incredibly robust for sending, the latest enhancements to Studio will fill you with the confidence you need to get your marketing emails looking fine and sent in minutes!
With 16 new pre-built content blocks that are both easy to use (and 100% customizable) and responsive, you know your emails will look great on every device – every time. Creating the perfect email for every guest in minutes has never been easier!
Want to learn more? Schedule a demo!
Getting started with the drag and drop, customizable Content Blocks
First, go to the Create Template view, where you'll see Content Blocks listed under the Elements tab. Grab a block and drag it onto your canvas. Yes, it's that easy.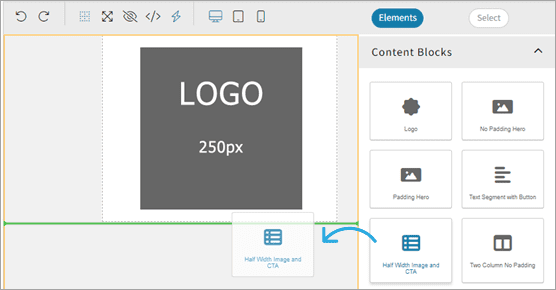 The elements that make up the Content Block will now appear on your canvas, already coded to respond properly on every device from desktop to mobile. If there are any elements within the Content Block you don't need, just delete them – the other elements of the block will remain unaffected.
While we've made improvements to the user interface and functionality, some elements of Studio remain the same. For example, anytime you want to update the content, such as text, images or links, just click into any of the elements within the block and make the change.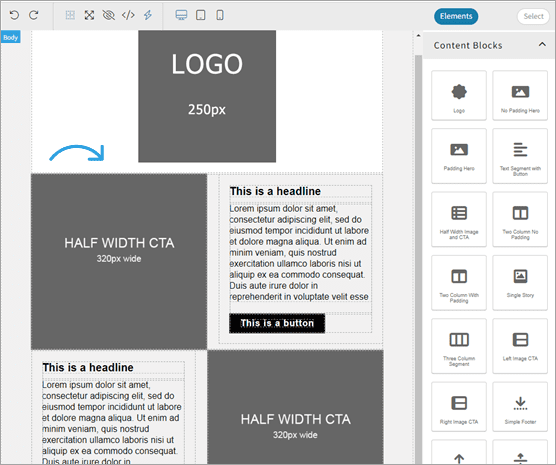 By the way, if you prefer to continue working with individual elements, you'll still find them underneath the Content Blocks section. And if you change your mind about an entire block, just use the Select tab to select it at the table level and delete the whole thing with one click.
When you are happy with the sections, images and content – just update the style of the element to match your hotel branding and your email is good to go.
Have fun and start exploring
Email campaigns offer hotels a great opportunity to get creative and create custom messaging for specific audiences, promote loyalty, define your brand, and drive direct bookings. With these latest enhancements to eInsight CRM's email builder, Studio, it's now easier than ever to create just the right email for every segment and purpose, while knowing that your final design will look great regardless of what device its opened on.
Learn more about hospitality's top-rated CRM being used by over 32,000 hotels globally!
Resources
Related resources