Blog
Sep 23, 2019
How to master your hotel's Instagram and Facebook stories
Create and optimize Instagram and Facebook Stories to boost engagement
For hotels, social media marketing is a moving target that manages to both frustrate and delight. On one hand, it's frustrating because the only constant is change…it can feel like a full-time job just to keep up! On the other hand, social media is an effective channel to showcase the best of what a hotel has to offer; it provides an intimate platform to connect with potential and past guests.
One of the most recent shifts in social media behavior has been Instagram Stories. The content type, which is itself a copy of the disappearing stories that made Snapchat famous, saw over 500 million daily users at the start of 2019. Since then, that number has surely risen: the company has pulled Stories into its flagship product so that they exist on both Facebook and Instagram feeds.
The point being: if you're not also adding Stories to your channel, you're missing out on some very important engagement! So rather than stress out and fret about having (yet) another task to do online, let's resolve this together. Here's how to master your hotel's Instagram and Facebook stories.
Before going any further, be sure to read The dos and don'ts of Instagram for hoteliers to give you a good foundation to Instagram as a platform for hotels.
Start with a plan
Stories should fit into your existing channel plan for social media. Below is a basic channel plan that can be adapted to your needs to include additional fields, such as the date, copy, metadata, or other important information.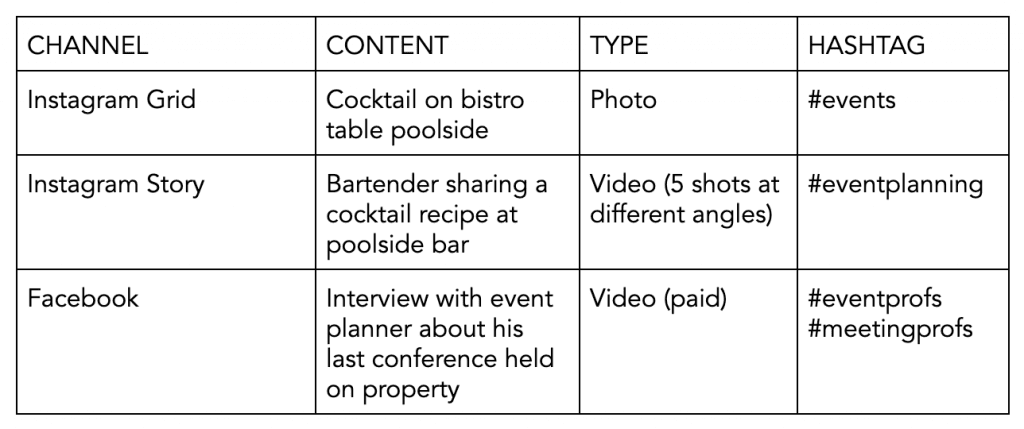 Within that channel plan, you'll see we singled out Instagram Stories as its own channel. It should be, as it's a completely different medium than the standard Instagram grid. There are more ways to engage with a Story and it allows viewers to experience a wide range of information in an extremely short space of time. And, since you can string multiple slides together, you can tell a cohesive story – a unique opportunity for storytellers.
There are other characteristics that make Stories stand apart from pictures and videos in the standard grid:
Stickers and GIFs. You can add more personality to your posts with these.
Text. You'll need to craft clever copy to add to your images and videos. You can also just post a static text image, so let your creativity flow!
Overlays of clickable hashtags. Use your hashtags wisely as you can overlay them directly onto your images so that people can browse topics within Stories too.
Polls. Ask your audience directly for input and you'll have a visual way to engage.
A CTA. Add a clickable link to send users off-platform. Or, if you have over 10k followers, ask them to "swipe up" and you can build custom clickthroughs into each Story!
Use templates
Before you head to the kitchen and ask Chef for a live interview for your Insta Story, know the right dimensions for your chosen channels. Each one has its own requirements. For Instagram stories (which are ported into Facebook, as covered earlier), you'll want the following dimensions:
Resolution should be 1080 pixels wide and 1920 pixels tall with an aspect ratio of 9:16.
Photos must be JPG or PNG.
Videos must be MP4 or MOV at a minimum resolution of 720p.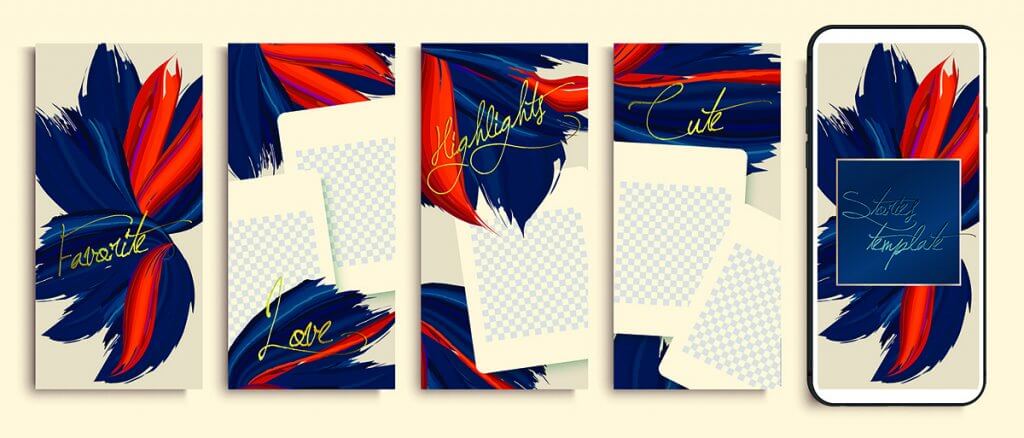 The easiest ways to adhere to these dimensions is to rely on templates. These templates also build a cohesive look-and-feel to your posts so your brand comes across clean and consistent. That way you not only benefit from engaging with your audience but you also build a brand with each post.
Create your content
Once you've got your plan, now it's time to create. We recommend first scheduling a block of time to create each week (or month, depending on your needs). By batching the creative time, you can get more done and have fewer excuses for missing your chosen schedule.
The two most important tactics for video Stories is to use enough light and to capture decent sound. No one is going to stick around if your video is poorly lit with terrible sound. Don't make the rookie mistake of not considering how it looks and sounds; sure, it's a casual medium but that doesn't mean ignoring the fundamentals of good-looking video!
We find the best results from simply using a late-model mobile phone with a decent camera. No one expects professional quality here. It's part of the charm! In fact, overly polished content can be seen as less authentic on the fast-paced social platforms.
Allow for spontaneity
Being overly prescriptive can stifle spontaneity. That's unfortunate, as off-the-cuff content can be some of the most engaging content. The sincerity and unexpectedness of spontaneously-captured content draw people in, making your hotel relatable to its online audience.
Unexpected stuff can also surprise users, leading them to engage further, such as commenting or sharing. That's the Holy Grail: a post that the audience not only consumes passively but also actively engages.
To achieve (at least the appearance of) spontaneity, enlist your colleagues and encourage their creativity. Those ideas may lead to some fresh takes. Develop an eye for which stories your online community engages with, and try to develop similar (but not identical) pieces. With Stories, experimentation pays off!
Highlight your best Stories
Curate your greatest hits into Stories Highlights. These are the round callouts that sit above your profile page. Each group should be centered around a theme that resonates with your audience.
For brands with multiple properties, these could be broken out by cities.
For resorts, these could be by season, event type, amenity or guest persona.
For independents, one effective tactic is to highlight the best spots in your destination, acting like an Instagram city guide for your guests.
And, if you're especially organized with your social calendar, you can follow Kimpton's example. The global hotel brand has organized its Highlights by series so that users can explore similarly-grouped Stories. If you decide to go the series route, this is a great way to showcase your work.
Know your analytics
The final step to mastering your hotel's Instagram and Facebook stories is to analyze performance. Just like you schedule a time to create and schedule you content, you must also schedule a time to analyze it.
Your analysis should look at the following questions and then use those answers to improve your next round of content creation.
When's the best time to post for peak audience engagement?
What types of content/topics perform best?
Which demographics engage most with my content?
Are there any influencers that engage often with my content?
Which stickers get the most taps?
With these answers, you can continue investing in a virtuous cycle of creation → scheduling → measurement. Rinse and repeat. You'll be a master of Insta Stories in no time!
Want to find out how you can boost your digital marketing presence? Contact us or read more about our data driven digital marketing offer at Cendyn.
Resources
Related resources