Jul 1, 2020
Plotting the comeback for hotels in a COVID-19 environment
Plotting (literally) the comeback
Since May 2020, we've continued to track hotel selling rates, planned opening dates, occupancy, and usage of out-of-order rooms among our client hotels. It's been interesting to monitor the extent to which hotel reopenings have stayed on track with initial plans and how demand has responded to the reopenings. The interactive tool we provide here illustrates how the four key metrics we've tracked have changed week-by-week from May 5th to date.
Reopening timelines
As of May 5th, 80% of hotels had sell rates available for June 1st and beyond. At the time it seemed there was a lot of optimism around a relatively quick closure period. Two weeks later, as of May 19th, only about 60% were selling for the June 1st to July 1st period, with July 1st and beyond still with 80% of hotel selling. This suggests that roughly 20% of hotels had to delay their openings for a variety of reasons. Even now, as of June 30th, we see only a gradual ramp-up from 70% to 80% that have rates available over the course of July, though August 1st and beyond are a bit better right now with about 85% of hotels open.
While our clients' planned reopening dates changed only somewhat over the nine-week period, the gap between their planned dates and the openings based on sell rate availability gradually closed. This could imply that hotels may have taken a more aggressive approach in selling for dates on the possibility of being open and then just canceling reservations should they have remained closed. At any rate, it seemed as though our clients' expectations as of early May were reasonably accurate.
Bounce-back of demand
As many theorized would be the case, there seemed to be some pent-up leisure demand among those who were eager to get out of the house following stay-at-home guidelines in many locations. However, the only discernable increase in week-over-week occupancy came after hotels already started to open around June 1, suggesting that guests took a bit of a "wait and see" approach, waiting for hotels to reopen before booking.
The usage of out-of-order (OOO) rooms going out about a month increased but then leveled off around 20% of inventory, keeping in mind not all customers use this capability within their PMS and RMS. It's interesting to note that this week is first time that a pattern emerged with notably fewer OOO rooms on weekends, suggesting some strength in demand in the leisure markets that Cendyn serves.
Looking ahead
There is still considerable uncertainty and fluidity of the situation around COVID-19. Although certain observed demand signals are a good sign, given the resurgence of the virus in many locations, it is worth continuing to monitor closely. Hotels' enforcement of health and safety policies and procedures will remain critical for building and maintaining guests' trust and confidence in travel.
Plotting the comeback - May 11, 2020 update
Hotels in North America and around the world are starting to look ahead to reopening their doors to guests. As we speak, from the smallest independent boutiques to the largest global chains, properties are formulating strategies for operations, marketing, revenue management, and many other areas in the context of a post-COVID-19 environment.
Theories and forecasts abound as to what the actual ramp-up of business will resemble, with general agreement that companies should have plans in place for various scenarios. But looking at certain data now can help with understanding how and when supply will come back online and how demand will respond to hotel reopenings.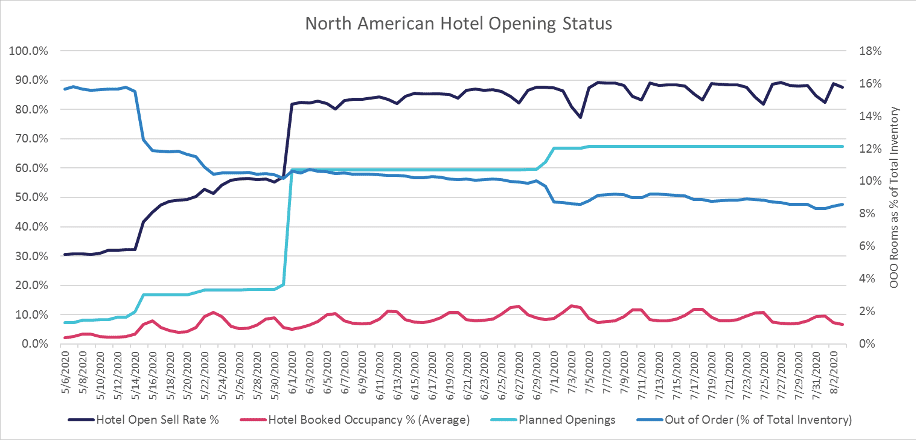 Three key data points are invaluable for identifying the ramp-up of supply, with their corresponding color-scheme from the chart above noted:
Hotels that have rooms available for sale starting at some date in the future (dark blue)

Hotels that have provided estimates of their reopening dates (turquoise)

Out-of-order inventory across hotels and how hotels plan to phase it back in (light blue)
Slow ramp up to June 1, 2020 reopenings
Of the roughly 1,200 hotels for which rate data was available, as of the time of publication, about 30% show rooms available for sale for stay dates in the first half of May. We see a bit of a bump up mid-month, and by the end of May, 57% of these hotels as of now plan to be open. But the biggest jump happens on June 1st, where over 80% of hotels are selling for stay dates on this date or later. Beyond June 1st there is a gradual upward trend; it is interesting to note the small percentage of hotels that don't appear to have selling rates available on weekends, which may imply a planned change in operational strategy for hotels that need to adhere to new standards of safety and cleanliness.
Selling ahead of anticipated reopening
The reopening timeframes that Cendyn's customers are reporting to us closely mirror the trend in the ramp-up of for-sale dates. Key milestones for reopening appear to be in mid-May, June 1st, and July 1st, with June 1st again being the clear target date for the majority of the hotels. What is evident however is the gap between the percentage of hotels that are planning a certain open date and those that are actually selling. There are a few possible explanations for this; aside from differences in the populations across these datasets, hotels could still be selling ahead of anticipated opening dates in case they are ready to operate (somewhat of a "soft" reopening). There are also many hotels that have communicated to us that their opening dates are still "to be determined" – we did not include these in our count of open hotels, and many still may have selling rates out there as of certain dates.
How will sanitation protocol affect bookings?
Out-of-order rooms data is somewhat less reliable as many hotels may not be utilizing that PMS functionality during closures and will likely need to do a lot to stay on top of planning for a certain number of out-of-order rooms once they reopen. However, it will be interesting to track how inventory phases back in once hotels come back online, especially given possible constraints tied to health-related restrictions and other policies and procedures. For instance, many hotels are either required or are choosing to delay housekeeping services on vacant rooms anywhere from 24 to 72 hours after departure.
'Wait and see' approach
Despite the ramp-up in hotel openings over the next couple of months, it is evident that most prospective travelers may be taking a "wait and see" approach towards booking. Booked occupancy seems to trend consistently in the 10-13% range without a noticeable bump up that coincides with hotel openings. Depending on their market and business mix, operators should prepare for possible surges of pent-up demand once they officially reopen.
The entire situation of course is a very fluid one and hotels are constantly monitoring guidelines, restrictions, and demand with the goal of making the right economic decision on whether to reopen and when. Hotels will be faced with the unique challenge of limited inventory, rising costs per occupied room, and the need to fill enough rooms at some minimum price to justify "turning the lights back on" so to speak.
Plotting the comeback - October 8, 2020 update
We dug a little deeper into the selling rate availability data (dark blue line on chart) to try to better understand the opening status of the hotels we have been tracking. Out of over 1,400 hotels in the dataset:
51% have a rate across all future dates which indicates that these hotels are definitely open and selling
31% have rates available beyond next week but have some dates in the future with no available rates

Out of this group, 83% of hotels have rates available at least 80% of the time and 73% of rates available over 90% of the time. These hotels are also likely open and selling and just have some sold out/closed out dates.

11% have no rate at all available over the horizon which indicates that these hotels are likely closed
7% have no rate in the next week which indicates they might be closed but planning a future opening
We also have been speculating about how many of our guestrev customers are employing out-of-order rooms to any extent, as the weekly result blends those that do with those that don't. It turns out that 80% of the 228 properties in the analysis have at least 10 rooms out of order for the next few months. Of the customers that are using OOO, the proportion of rooms that are OOO look like this:

Resources
Related resources