Mar 18, 2020
The ultimate crisis survival guide for hotels
A toolkit for navigating global crises like COVID-19
The recent global spread of COVID-19 – and the resulting impact on personal and professional lives everywhere – has put crisis management front and center. Hotels face a domino effect triggered by the pandemic: guests are afraid or not allowed to travel, businesses are pausing corporate travel and events of all sizes are being canceled.
The resulting drop in demand means that there's less work for hotel staff, who are rightly concerned about reduced income (or even losing their jobs), in addition to the shared uncertainty around contracting the virus. The overall level of uncertainty makes this an unprecedented event for hospitality.
We recommend a multi-pronged strategic response: sustain your operations where possible, refocus your marketing/group sales outreach and get (even) smarter with your revenue management.
First, it's about doing what's necessary to sustain operations, from controlling expenses, retaining essential staff and keeping the property clean. During a crisis like this, it's very much about treading water and sustaining presence in the face of these challenges.
Second, it's about thinking carefully about maintaining existing client relationships, refocusing your marketing, and focusing on revenue management stability.
In this guide to surviving the crisis, we offer tactical crisis management advice for all sides of the house, as well as tips for communicating with guests, staff and the public. By implementing these tactics, you'll have a more confident path to navigate the crisis and make it through to the other side.
Part 1: Sustain your operations
A major industry-wide crisis is kind of like a hurricane on the open ocean. We can see it coming but we may not have that much time to prepare. The most pressing response to any major crisis is to "batten down the hatches" by tightening operations so that they can be sustained through the storm.
Since it's hard to judge the severity or duration of the current crisis, quick action pays off. Hoteliers that rapidly respond to changing market dynamics are often best prepared to ride out the storm – and usually end up in better shape once the storm passes. Here are some tactics to sustain your operations during this crisis:
Engage staff.
The absolute first thing you want to do is to set expectations with staff and listen to their concerns. Be transparent and open about the situation and its impact on staff. Not only will staff be responsible for keeping the property clean and safe for guests, but they will likely also face reductions of income, unpaid furloughs or worse. To foster some positivity, offer incentives to those who go above and beyond.
One tactic to engage staff is to create a Crisis Management Team with staff representatives from each department. Frontline staff can then filter concerns up to that person, who can then relay them to the crisis team. This keeps things organized while building a clear chain of command so everyone feels heard (more on this later).
Implement a sanitization plan.
This might be the most obvious but it's important to have an established sanitization plan. "We're going to clean more often" doesn't cut it! Especially with recent studies showing that the virus can live for several days on surfaces, you'll need a constant cycle of deep cleaning, as well as visible hand sanitizer, soap and hand washing stations.
One way to tackle this is to split your hotel into sub-areas and assign specific teams to "own" each area. Each team shares responsibility over a specific area, which gives ownership and makes it easier to manage. Similar to bathrooms, create a log of cleaning times so nothing is overlooked, as well as a checklist that includes a step-by-step breakdown of the proper sanitation procedure.
Communicate.
Put your commitment to cleanliness front-and-center wherever possible: prominent signs on the front desk, sharing safety processes on social media, etc. Signs in restrooms can also encourage hand washing. For instance, "let's all wash our hands!" could be an on-brand and light-hearted way to remind everyone that hand washing is the best way to prevent infection. Don't hesitate to call out adherence to globally accepted guidelines, such as "Our property follows WHO guidelines for proper and complete sanitization."
This also applies to guests with upcoming reservations. Inform them of your updated cancellation policies, share your current sanitization procedure and then do whatever it takes to maintain that relationship – even if they cancel. Let them know you're sorry to see they cancelled but that should they wish to re-book, they will be welcome anytime.
Keep your best associates.
The unfortunate reality is that everyone is affected by this crisis. As your hotel loses business, staff will lose hours. You'll want to do whatever you can to keep your best associates for as long as you can because these great team members define your hotel's guest experience.
Be sure to consider outside of the box solutions to keep those most important working as long as possible. The most obvious option is deploying more hands to keep your property sanitized. Is cross-training or using them in multiple departments an option? Are there other hotels nearby that need help? Some creative brainstorming may help you find other ways to keep your best associates.
Have an infection plan.
If anyone on staff (or a guest) gets sick, it may be catastrophic. Be prepared for that to happen and let everybody know what they can expect. This plan should include disinfecting the entire property, quarantining staff and providing sick leave. For instance, if a hotel has 150 staff members and someone on the first shift gets sick, it's possible that a third of its staff will need to self-quarantine – and others may not feel safe returning to work. A labor contingency plan prepares your property for any eventuality – including the unfortunate reality that you may have to close the entire property for several weeks or more.
Secure your financials.
Ultimately, you cannot sustain your operations if you run out of money. At this stage, you should forecast for three scenarios: rapid recovery (2-3 months), medium-term recovery (3-6 months) and slow recovery (6+ months). Adjust your forecast according to each of these demand scenarios, and see how it affects your free cash flow. Then, open up lines of communications with asset owners, vendors and others who may be affected by a diminished ability to pay bills. Everyone is being affected so it's best to begin these discussions right away.
Boost morale.
This crisis affects us all. Everyone is going through this together. Like others, your staff is feeling a lot of uncertainty, fear and confusion. It's a challenging time. Little gestures of gratitude goes a long way to boost morale. In all interactions, with both guests and staff, be empathetic and demonstrate care and concern. Boosting morale isn't easy; but it's an essential survival strategy in trying times. It's an important task, since losing great staff leaves you at a disadvantage once this crisis passes.
Since we don't know how long it will last, wherever possible, maintain staffing levels so that your hotel is prepared for a return to normal business levels. In the event of layoffs, communicate openly and transparently and remember that remaining staff will be struggling through lower morale. This can in turn negatively impact the guest experience, so do everything possible to keep their spirits high.
Part 2: Refocus your marketing
It's tempting to reduce or eliminate marketing spend in times of crisis. It's always the easiest expense to drop because it can be turned off instantly. It also feels less impactful than other expense reduction moves, such as cutting staff hours.
Resist the temptation! Marketing in times of crisis is what keeps your hotel top-of-mind in what is essentially a battle for market share and getting enough bookings to cover overhead.
Rather than reducing spend, refocus your marketing strategy to better allocate existing budget by adjusting your segments, messaging, pricing and offers. By understanding the demand in the market as it grows, you can strategize accordingly while letting the travelers know you are open and ready as ever for their business.
In the sections below, you'll find your digital marketing toolkit to survive the crisis. Throughout all of this, continue working closely with your digital marketing team to adjust and monitor in real time and continuously be ready to pivot the strategy as we learn more about the virus and its impact on travel patterns.
Paid Marketing
To stay top-of-mind – especially as the crisis gets under control and people begin to consider traveling again – keep investing in revenue-driving campaigns such as remarketing, paid search and metasearch to ensure you are still appearing in front of the guests that are still considering travel.
While there may not be many trips in the short-term, many people will be ahead to summer travel and dreaming of escapes. When quarantines lift, travelers will be super ready to get out of the house and travel for leisure and business the moment that happens, so be the hotel they remember when it's time to book!
You'll also want to evaluate and adjust your revenue pricing strategies, specifically around room type pricing. For example, it may be a good opportunity to price suites at less of an up-charge than usual to entice guests to travel. You could also use some sort of "guaranteed upgrade" verbiage, or promotion that offers suite upgrades based on availability at check-in. The idea is to use lower occupancy levels to give those guests who do travel a better experience, without cannibalizing the positioning of your premium room categories. Other paid marketing tactics include:
Think local.
Encourage locals to take a break from the day-to-day stresses of the headlines with a staycation. For these guests, you'll want to lean into the transparency angle above to highlight cleanliness and assure them of their safety.
Below is a great example of a staycation promotion from The Standard, who sent an email with the subject line "Near, Not Far" to its main marketing list. Note how the brand used the promotion as an opportunity to highlight one of its core value propositions: pets stay free.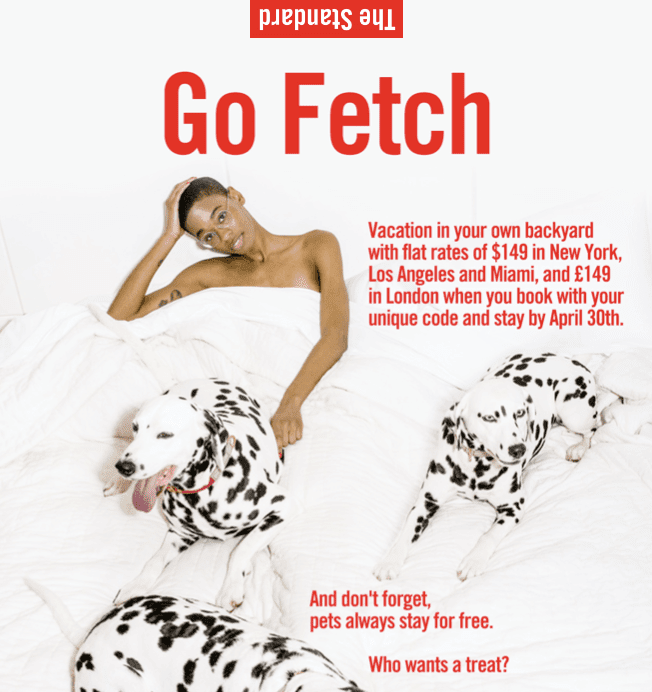 So it's not just focused on the discount, but also on the brand's overall appeal to its core demographic. It's also super helpful for guests knowing they don't have to worry about finding a local pet sitter amid the crisis for this staycation and that the whole gang is welcome. Please note: as of March 23, 2020, The Standard Hotels have closed four out of seven properties globally.
Exclude heavily-affected or travel-restricted markets.
Align with revenue management to determine markets/segments of concern and markets/segments of opportunity. Exclude restricted regions for your short-term promotions and target those unrestricted markets.
Adjust your segments.
Dive into both your CRM and RMS to identify segments most likely to book at your hotel, such as short-haul travelers and those within driving distance of your property. With global travel severely restricted, local drive markets and nearby travelers are the main segments.
Maintain rate integrity.
Use what you know about these guests (per your CRM and RMS) to create targeted packages that include spa, event tickets, or dining credits. By using packages rather than blanket discounts, you preserve your pricing power and avoid a race to the bottom.
Offer flexible cancellations.
Utilize lead time promotions that have flexible cancellations (or no change fees) to create demand and build momentum for when the crisis is over.
A/B test ads.
Market those packages (as well as flexible cancellations) to specific segments and test many permutations to find the right balance of creative, copy, call-to-action and offer. Then invest heavily in what works!
Use passenger data.
Leverage airline data through digital partners, such as Adara, Sojern and OAG, to adjust media weight based on the latest travel restrictions, booking patterns and capacity reductions in the aviation industry.
As the outbreak comes under control, influencer marketing can be a great way to show that your property is safe and open for business. This is the perfect marketing tactic for the later parts of the crisis, as it looks to be more under control and business is just regaining its momentum.
Owned channels: website and social
There are plenty of channels and tactics that don't require investment but still act as marketing vehicles for your hotel. Your most valuable owned channel is your website. Update your blog, booking engine and homepage to align your messaging and put your property out front of the current crisis. Other tactics include:
Be transparent.
The very first thing you want to do is to be open and upfront with how your property is addressing the virus. Prominently place a "Message to Our Guests" on your website and booking engine so that guests can easily find cancellation policies, cleanliness commitments and other essential information. Make sure this information is available in all relevant languages.
On hilton.com, a banner from the home page triggers a pop-up which links to the brand's official statement.
Create a coronavirus hub.
Build a dedicated landing page that's SEO optimized (e.g. "Statement from ABC Hotel on COVID-19") and update with the latest updates from your property. This can help to counter any negative news media that may be showing up when potential travelers are searching your hotel on Google.
Soft selling.
Provide updates on social media in a sensitive way to soft sell bookings. Look for opportunities to partner with local community organizations or other efforts that may both demonstrate your commitment to a rapid resolution of the crisis and give you opportunities to share non-promotional content on social media.
Social listening.
Closely manage and monitor social channels and conversations to ease the concerns of guests. Social listening can also help you uncover potential patterns or bright spots around segments or markets you can target with paid marketing.
OTAs.
It might also be worth updating your property listing on the OTAs to highlight your property's proactive approach to maintaining a clean and sanitized property, as well as adding any new packages or other offers to your relevant OTA advertising.
Email marketing
Your CRM is your source for rich guest data that shapes a personalized response strategy.
Start by emailing everyone.
Use a standardized message with three key components:
Empathize. Introduction should be very clear that this is a tough time for everyone and that safety is first and foremost. You absolutely must avoid being tone-deaf to the tragic and stressful aspects of this global pandemic! Be human and real rather than distant and corporate.
Update. Share your sanitization measures and what you're doing to combat the virus to keep staff and guests safe. Ideally, it should link to the WHO guidelines and share specifics on how your property is adhering to global best practices. Also, mention any updates to cancellation policies or other relevant information.
Remind. Let them know your property is open for business and happy to accept guests. Avoid including a discount at this stage, as it may appear insensitive. Close with a tasteful few sentences that highlight your brand proposition and remind guests what you stand for.
Here is an excellent example from Avani, a brand of Minor Hotels:
Send an email specifically to upcoming reservations.
Use this as a way to reassure them that their upcoming stay will not be affected or, if it will be, notify them of the changes and their cancellation/refund/rebooking options.
For guests who have cancelled, it is just as important to try and maintain that relationship. Let them know you're sorry to see they cancelled but that they'll be welcome anytime should they wish to re-book.
Leverage your CRM.
Your customer relationship management (CRM) software is your source of rich guest data that can be used to personalize emails and create campaigns that are hyper targeted to specific audiences. Redirect marketing efforts to focus on regional/local business and specific unaffected regions without travel bans.
Just don't send out too many emails though! Inbox saturation isn't a good look, especially given current conditions. But you definitely want to develop a personalized, targeted email marketing strategy that allows you to make specific offers to certain segments that may be interested.
Depending on your hotels size and unique needs, here are some other specific email marketing tactics to test:
Encourage ancillary revenue through F&B and spa promotions, especially for the local market.
Show your guests that you appreciate their business with complimentary food/beverage vouchers.
Showcase your in-room dining offerings; consider waiving room service delivery charges and ramp up your room service menu.
Take advantage of on property foot traffic and spontaneous bookers, offer discounted room rates for last minute bookings, and restaurant or spa guests.
Lead-time promotions: for example, 20% off stays booked 60+ days in advance, to start creating demand for the future when the virus may be over. In fact, a flexible cancellation policy could be the most valuable aspect of an advance booking deal, just in case problems persist.
Travel restrictions: be fair to those who are unable to travel to your property due to travel restrictions.
Loyalty marketing
Hotels with loyalty programs should absolutely engage their most loyal guests. This segment has proven affinity for your hotel and will nearly always deliver stronger returns than finding new potential guests elsewhere – and that's doubly true during a crisis. To best leverage your loyalty program, do the following:
Reduce the number of points needed to redeem a free night's stay.
Offer double points for stays in the next few months.
Continue to send reminder emails to inactive members to make their next booking.
Reach out to members who have soon-to-expire points or nights and encourage them to redeem with an especially appealing offer, such as additional nights for free, an upgrade to a spa package, or other enticements.
Build special packages for your loyalty segments that you can sell directly to them via email to avoid commissions.
It's always tempting to follow competitors in a race to the bottom, especially in times of panic-driven downturns. Instead of racing to the bottom, be smart. Bring together revenue and marketing to craft a cohesive strategy that uses both pricing and marketing to minimize losses and maximize opportunities so your hotel stops before it reaches the bottom.
Each crisis has its own specifics; as your team identifies the bright spots, adapt your strategy and lean into those opportunities!
Another fantastic example of a COVID-19 focused email that's fully on-brand and deeply empathetic while also being direct and to the point: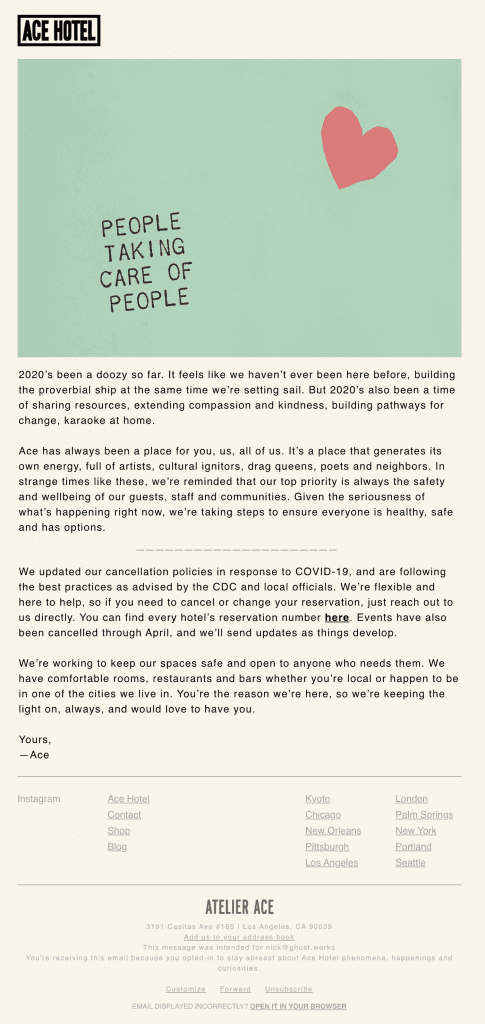 Part 3: Communicating in a crisis
The cornerstone of crisis management is communications. How you communicate defines your ability to shape the narrative and manage risk. A lack of communication and/or response to an issue speaks volumes about a brand – so always get in front of the issue and speak out. You'll need a plan for both internal and external communications and think about each every day; what do I need to express in this 24 hour period to help us manage and survive this crisis? Here are a few tactics to consider:
Put safety first.
Health and safety should always be at the core of your message. All communications should reassure guests that their safety is number one priority. It's key that you communicate that your hotel has done everything in its control to mitigate risk. Staff, guests and the public expect (and deserve!) honesty and transparency.
Be sensitive.
Triple check all marketing messaging, guest emails and other automated communications across all departments and systems to be sure that they are sensitive to the situation and have the appropriate tone.
Open door policy.
This applies to all stakeholders. Provide means for a two-way conversation so that any questions, concerns can be addressed quickly and easily. Again, it's about getting out in front of this and shaping the narrative on your own terms by preventing others from jumping to conclusions.
Be proactive.
Reach out to event planners and corporate travel managers to protect these valuable relationships. Share your mitigation plan so that they can see what your property is doing to keep them safe when on site. As events get cancelled and companies cease all non-essential business travel, you might preserve some business by showing how proactive you are. Listen to their concerns and develop plans for any expected cancellations.
It may be worthwhile to reach out to event planners with no any upcoming events just simply to stay top-of-mind. It's best to take a long-term view of the relationship rather than focus on the short-term loss.
Training.
Schedule trainings/updates at regular intervals. Things change fast so keep your staff up-to-date on the latest. You want everyone on the same page, and prepared for whatever may come their way — especially with crises that require rapid responses, such as terrorism or super-contagious pandemics.
"Single voice" policy.
Another key aspect of this training is to ensure that everyone is properly informed with the latest messaging, policies and processes. The last thing you want is employees telling different things to different guests. This creates confusion and poor customer service. Maintain a unified, consistent message.
Communication plan.
To avoid overlaps, duplication and mixed messages, this shared working document tracks which communications go out to which groups on which channels and at what time.
Guest-facing rules.
Define the parameters around what will be told to guests, in what tone, when and in which channels. Be sure to engage early with guests who are set to stay on property; reach out to let them know what precautions you are taking on property and that you are thinking of them and their safety. You'll also want to include regular communications with upcoming reservations and those who have cancelled.
Public-facing.
Certain incidents require public responses. At the very least, you may need a public relations stance and statement in case of inbound requests. For instance, what to say if there is a COVID-19 infection that either occurs on property or that a potentially-contagious guest stayed on property previously. Plan all public statements so you can be ready to move quickly.
Staff-facing.
Crises also affect staff and can be quite scary. Plan ahead for how you will communicate with your own staff as well.
Message matrix.
Once you have defined messaging for your each audience, aggregate it in a Messaging Matrix that can be shared with other key stakeholders and updated over time. This can be a simple spreadsheet that includes audience, channel, and message content, as well as date/time posted or scheduled.
While the Matrix provides the blueprint for all communications during a crisis, you can and should adjust tone and message content as appropriate.
Part 4: Adjust your Revenue Management Strategy
During times like this, the hotels that race to the bottom with their rates tend to be the ones that take the longest to recover during the upturn (see images below). And since industry-wide ADR takes time to recover after an external shock, it's important to monitor your market and adjust your strategy cautiously and carefully. Your Revenue Management System (RMS) and Business Intelligence reporting (BI tool) will form the basis for much of your strategy decisions moving through this.
We've broken the section down into specific components, with rapid-fire tactics for each. Keep in mind that these tactics don't apply to all categories and sizes of hotels; you'll need to adjust your strategy and select the best tactics for your unique situation. See below for Chicago market data after 2008 downturn (from STR data presented by HSMAI).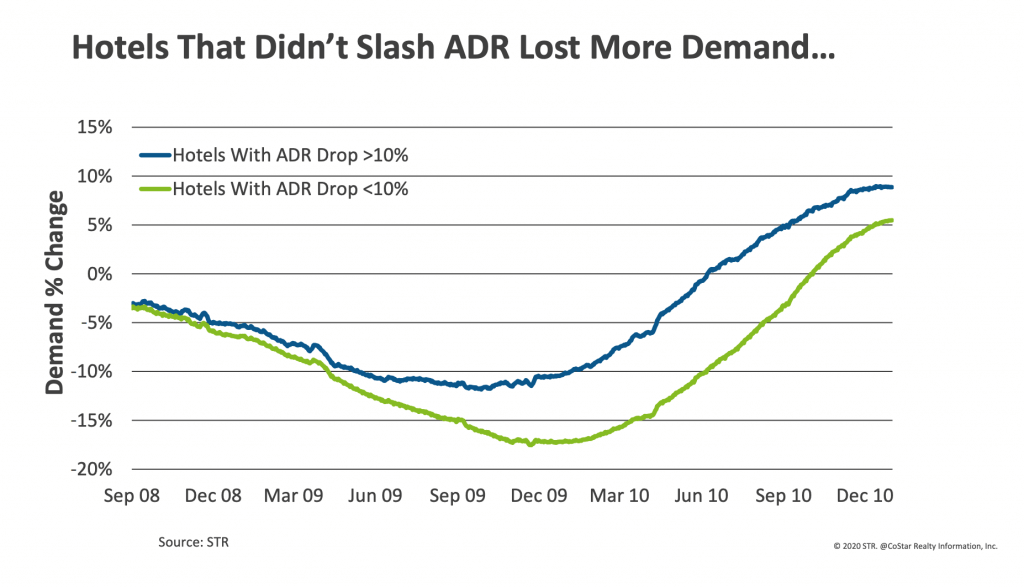 Planning and teamwork
Depending on your property size, here are a few tips to help you manage the workload and maintain momentum during such challenging times.
Increase the frequency of your revenue meetings.
Potentially update to every day, possibly even twice a day. During these meetings, you'll adjust rates, align pricing strategies and tactics with operations and marketing. Remember these may have to be remote!
Have daily occupancy reviews.
Use the time to cover the next seven days with the operations, sales, marketing and revenue management teams to keep a consistent understanding of demand and to share decisions, ensuring the latest pricing intelligence is consulted with all efforts and outreach.
The performance data and analytics that you get from a RMS will help your hotel make data driven decisions during these downward trends. You can efficiently see what segments are booking and cancelling, the value of those, and where there are opportunities.
Use this low occupancy time to work out a formal Revenue Management Plan if you do not have one, for the next crisis. Planning and preparation are powerful – so use this time wisely.
Action items
Review hotel insurance policy.
See how many $$$ you can use to buffer your hotel's pricing strategy during this time.
Use your RMS.
The RMS will respond to customer booking changes during a downturn. More importantly, it will see when people begin to start booking again and respond to the pent-up demand. This gives the hotel a competitive advantage during the recovery.
Freeze seasonality trends from before the "crisis" so that normal forecasting can be as accurate as possible when the crisis ends and not be affected by the range of outliers during the crisis. This helps maintain an accurate forecast with decreased transient demand and group booking cancellations.
Set up manage-by-exception features (e.g., alerts and differential reporting to draw attention to opportunities that arise).
Create automated reports in your RMS that are distributed to the full team, allowing you to make decisions quicker based on the latest monitoring.
Ensure previously canned/automated marketing campaigns with previous pricing is paused in light of the crisis.
Forecast
Read the data signals.
Use business intelligence and insights regarding demand levels and business mix through RMS reporting to support effective forecasting for operational departments to control resources and costs accordingly.
Forecast your cancellations.
It's important that your RMS forecasts cancellations separately and not just net bookings.
Understand your cancellation curve and use it to forecast.
Determine whether your cancellations are "one-time" (perhaps tied to the cancellation of a citywide or similar) or ongoing.
Once the cancellation trend slows, adjust the forecast accordingly.
Focus on short-term forecasts.
Stay responsive by narrowing forecasts through the end of Q2.
Forecast and visualize by market segment to enable more targeted activities.
Forecasting the recovery.
Getting the forecast of the recovery "right" is just as important than the forecast during the crisis.
If your forecast uses seasonal trends to forecast long-term, "lock" them in from before the crisis so that when things get back to normal, you are not forecasting using an artificially low seasonal dip.
Take heed to outliers, especially in the case of a full closure – you don't want "bad data" affecting future forecasts.
Strategy
Review and adjust comp set pricing based on what the other hotels are pricing in your market, but be careful about lowering rates. Lowering rates is easy but doesn't necessarily generate more occupancy when there is limited demand. Additionally, the lower you drop your rates, the longer it is going to take to recover (see HSMAI data). Remembering to focus on RevPAR or total revenue, rather than "heads in beds" can be difficult unless you are making data-driven decisions.
Re-evaluate.
Look at whether your usual comp set is still appropriate or if you need to have other hotels on your radar. For instance, a five-star hotel in your market that drops rates could easily poach business from three- and four-star hotels. Therefore, we recommend you:
Strive for a holistic view of your market when it comes to competitive rates and adjust your comp set as needed.
Maintain a standard rate amid the crisis in your RMS applying rules that also allows for special offers that can lift demand in strategic ways.
Review which markets you are targeting, as travel restrictions expand, target regional travel that can be completed by car, versus longer travel requiring air travel.
Look at your cancellation policies.
Create a policy for cancellations and refunds during the crisis and adjust revenue forecasts based on this:

Offer flexible cancellation to attract business that may have cancelled. That way you are getting already-booked guests come back in the future rather than chasing nonexistent demand.
Follow the lead of the airlines for cancellation/refunds during times of crisis.

Consult with your hotel management group or brand to review local property versus parent company pricing strategies based on your situation.
Assess group booking cancellations:

Adjust revenue management forecasts based on the true level of business.
Hotels should come up with a realistic expectation for cancellations and wash such that the revenue management forecast can accurately estimate how much capacity there is for transient business and price accordingly.
In times where occupancy drops, it's natural to want to lower your pricing to drive demand. In times of panic-driven downturns, a race to maintain the lowest rate in the market is exactly what you don't want to do. Combine your revenue and marketing strategies to manage the situation instead of letting the situation manage your strategy.
Now start here: Crisis response team.
Obviously, this is a lot to digest! And this guide is only one of many COVID-19 resources from vendors, governments, trade media, universities and associations. There's a lot to be done. It's overwhelming. The continued uncertainty and rapidly shifting realities make this crisis especially difficult to navigate.
To put some order around this chaos, your first step before implementing the tactics above is to create a core Crisis Management Team, which is the working group for all things crisis-related. Depending on your property's needs, you want to have leaders from operations, sales, marketing and revenue management, in addition to the general manager and someone from finance, if possible.
It's also advisable to have a staff representative from each department to act as a liaison property-wide. Frontline staff have unique perspectives and should participate equally throughout the planning process. This ownership nearly always translates into stronger engagement and better adherence to the final plan.
The Crisis Team helps increase visibility, minimize information asymmetry and reduce the time it takes to act. It keeps everyone on the same page and encourages a collaborative action-oriented mindset. A centralized "crisis nerve center" facilitates quick responses to a highly dynamic and constantly shifting situation.
And remember…
Throughout all of this, remember to avoid being defensive, both with each other and guests! This is a lot to process for everyone and it will absolutely take a mental and physical toll. Be aware of that and ensure that everyone, from management to frontline staff, remain empathetic and kind.
Everyone is experiencing a stressful time and we must all remember to communicate from a place of kindness!
We know the times are incredibly difficult. Uncertainty, coupled with community health concerns and plummeting revenues, makes it really hard to do business today and plan ahead for tomorrow. The only course of action is to adjust quickly to this new reality, dig in for the long haul, prepare your staff for the tough road ahead and build resilience across your operation wherever possible.
We may not know exactly when the outbreak comes under control and business resumes. But one thing is certain: this too shall pass. The hospitality industry has survived other major global crises and we will get through this one as well.
For over 20 years, our technology and strong relationships have helped hotels weather crises so that they come out of downturns stronger than ever. We're in this together. To find out more about how we can help your hotel, contact us today.
Now go wash your hands!
Resources
Related Articles