Apr 2, 2016
Turn your data into action
Turn your data into action: personalize guest arrivals
Guest arrival is a crucial moment in the guest journey that sets the tone for the entire hotel stay. By the time a guest actually checks in, they have likely undergone a long, tiresome and sometimes irritating travel experience. At this point, their typical mindset is along the lines of, "I can't wait to get to my room, freshen up and start unwinding". So it is no surprise that check-in is when a lot things can go wrong. The operational challenge is not how fast you can check the guest in, but how fast you can get the guest in their room without a break-down in communication or guest experience.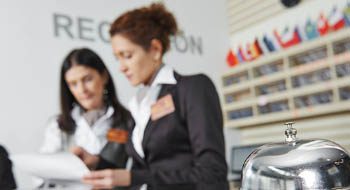 Know Your Guests: Personalize Check-In Interaction with Data
The first step in creating a personalized check-in experience is leveraging your guest history data to create an arrival report. A typical guest arrival report includes notes about recency, frequency and monetary value, along with the distribution channel and reservation information for each guest scheduled to check in on that day. Our hotel clients take it a step further by including as many as 40 different variables in their dynamic arrivals reports, which are automated and delivered on-demand to the key stakeholders responsible for operations, guest experience and relationship.
Operation managers use the dynamic arrivals report to decide what level of attention each guest needs to receive and the type of action they need to take during check-in, which may include acquiring contact information, upselling, or cultivating loyalty.
These operation managers also use Cendyn's CRM Platform to get a single view of that guest's unique history, value, behavior, desire, interest to facilitate decision making and cut down on research time. Our CRM Platform provides easy access to accurate data that managers can rely on to determine the best course of action for increasing guest satisfaction.
Pre-Plan Guest Arrivals for Short and Focused Interactions
For a successful guest arrival, it is critical to keep the interaction focused so the exchange can be short and sweet. That focus depends on where the guest is on their loyalty journey with your brand. The more loyal the guest is (repeat guests, VIPs) the more important it becomes to properly acknowledge that relationship. A common mistake is welcoming a VIP with a "Have you stayed with us before?" an impersonal question that might lead your guest into thinking that you are treating him or her as a stranger, even though that's not what you meant. While knowing whether you should say "welcome" or "welcome back" is important, this interaction should focus on more than just proper greetings.
Below are several examples of different guest interaction opportunities during check-in:
1. Capturing OTA Guests' Email Addresses:
Guests who booked their reservation with an OTA may not have their email address in your CRM system, so your check-in interaction can include the front desk agent kindly asking the guest for an email address. Once this step is successfully completed, your automated Marketing campaigns can nurture and re-market to that guest, so that next time they book a reservation through your direct channel instead.
2. Anticipate Desire and Intent to Upsell Guests
There are many ways you can leverage your data to upsell at check-in.
For example, a guest who is a systematic or frequent spa visitor, can be asked if she or he wants to make a reservation at the spa.
You can also target guests who opened or clicked through a recent marketing email that offered an upgrade but didn't convert, and let them know that the upgrade is still available.
Another tactic is to use the data from a recent pre-arrival survey to infer your guest's interests in specific activities your hotel offers, such as telling a self-described "foodie" about an exclusive hotel dining event during their stay.
3. Cultivate Loyalty with Rewards
There is nothing like a well-timed and unsolicited gift to turn a guest into a loyal brand advocate. It could be a room view upgrade to reward high yield guest for his or her repeat business during a low occupancy stay. It could be complimentary drinks, massage or diner to acknowledge that a guest chose to celebrate a special occasion at your hotel like a wedding anniversary, or a birthday. While the gift should feel spontaneous, it has to be in proportion to the guest lifetime value and with a logical progression that can be understood by everybody.
Streamline Front Desk Operations
At Cendyn, we have found that the best way to provide a unified guest check-in experience across multiple properties and front desk agents is to implement business rules in our CRM Platform to automatically suggest the most important items to engage the guest at the front desk. Our guest intelligence module instantly provides a series of suggestions to the front desk agents, which starts with recommending the proper greetings (based on previous guest data) and moves into finding opportunities to upsell, as well as increase guest satisfaction using predictive analysis. Our hotel clients find this process to be a very effective tool that optimizes the check-in process and improves guest relations, while relieving the stress on front desk agents to perform during peak activity.
Brand experts all agree that today's guest has changed. They not only expect great amenities and service, but want personalization along with an emotional connection. This is true of Gen Xers and Millennials alike. In this context, it only makes sense to leverage guest intelligence to create meaningful engagement and cultivate loyalty to nurture profitable, long-term guest relationships.