Increase efficiency and reduce operational costs with Cendyn's Call Center
Increase efficiency and reduce operational costs with powerful, web-based Call Center solutions for hotels, resorts, and casinos.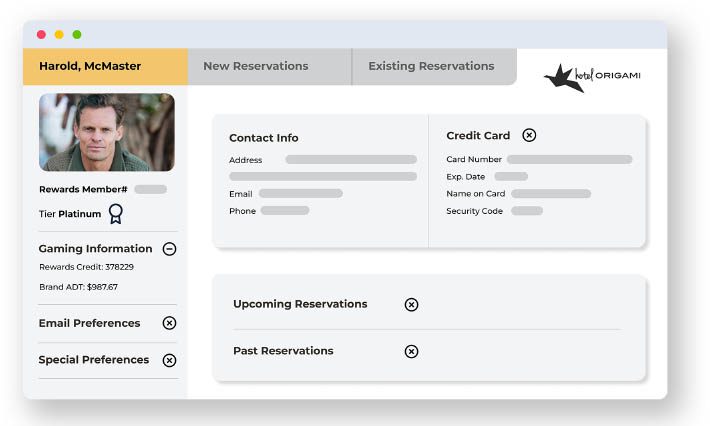 An intuitive agent platform that empowers your team
Our platform gives your reservations agents a full view of your rates and inventory, allowing them to easily answer property questions and reserve the right room and rate plan for each guest. Designed for flexibility and efficiency, agents can easily make multi-room and multi-rate plan bookings on a single reservation and override availability – as needed.
Ways to optimize your loyalty program
Cendyn's Call Center solutions offer deep integrations with your existing loyalty and player programs. By Uniting your data from multiple sources within a single call center platform, your reservations agents will have a 360-degree view of your most valuable and loyal guests, including the ability to offer comped rooms and other loyalty bonuses.
Drive revenue while minimizing costs
Our highly-trained, multilingual reservations specialists drive direct bookings and upsells, while our innovative platform allows you to track detailed metrics including conversion rates, talk time and denial reasons through reporting solutions offered by Pegasus CRS.
Consider AI integration with your Call Center system
With Cendyn's AI Call Center integrations, you can:
Reduce labor costs and training requirements caused by the high staff turnover by allowing your call centers to offer additional booking opportunities beyond the typical open hours that previously required an in-person team. You can also significantly reduce the volume of live reps needed and allow those employees to give their full attention to more complex reservations or other operational needs while the AI chatbot answers questions about when the pool opens, restaurant hours and other hotel information.
Unlike people, AI chatbots can handle numerous callers dialing into the system simultaneously, eliminating the long waits and hold times that often force potential guests to hang up and try again later or move on to another potential destination.
Resources
Related Articles