Jun 16, 2022
Google Marketing Live 2022 – news, insights and predictions
Google's annual Marketing Live event took place on May 24th, and Cendyn is ready to share the event's top insights and announcements, along with our own takeaways and recommendations. Like previous years, the announcements at Google Marketing Live 2022 were centered on new ad placements, upgrades for familiar products and tools, and of course, the ongoing topic of third-party cookies. 
At Cendyn, the two announcements we are most excited about are the new YouTube Shorts and the inventory expansion for Connected TV.
YouTube Shorts – *New*
YouTube Shorts is Google's answer to TikTok. Showcasing a similar 9:16 aspect ratio, YouTube Shorts has begun rolling out advertising capabilities worldwide. According to Google, YouTube Shorts are generating 30 billion daily views, which is up 4x versus last year. 
However, take the significance of this number with a grain of salt. When compared to TikTok, whose total daily views are unreported, the YouTube platform as a whole is slated to be surpassed by TikTok in total watch time this year. From a top-level perspective, it's hard to get behind the hype considering TikTok's virality and the relative obscurity of YouTube Shorts.
Even though YouTube Shorts is significantly behind TikTok on viewership, advertisers and marketers should still pay attention to this new ad placement and its potential.
Some main takeaways: 
YouTube Shorts will be able to connect to a product feed to enable shoppable video ads, which will be more relevant for e-commerce advertisers vs. hospitality marketing teams – for now at least. 

YouTube Shorts are accessible on the YouTube homepage, channel page and via notifications on the app. 

We can expect to see the same targeting capabilities (not yet confirmed) as those available through video action and app-campaigns, including: keywords, topics, interests, demographics, custom intent, and first-party audiences such as customer-match and website audiences.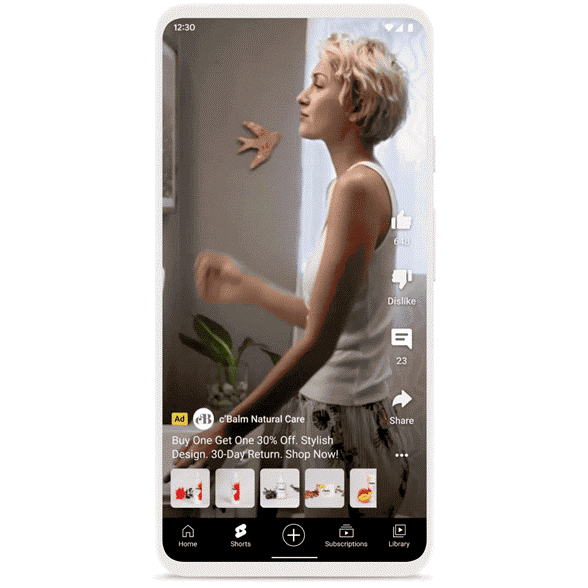 TikTok, Instagram Reels and now YouTube Shorts are offering portrait video ad placements.  
Cendyn's recommendation: Hotels seeing strong performance on Reels or running successful Display campaigns should consider testing YouTube Shorts. It's a great opportunity to leverage Google audiences, and the large full-screen placement is an awesome way to showcase a property's offerings. 
Connected TV Campaigns – *Revamped* 
The biggest takeaway from this announcement is that marketers will soon be able to use the same affinity, in-market and demographic audiences used in programmatic campaigns to run Connected TV campaigns, all within Display & Video 360. 
Aside from extending familiar audiences to DV360, Google is unlocking more CTV inventory on the platform.
Considerations to keep in mind: 
CTV inventory will be accessible across Hulu, Peacock, YouTube, Discovery+, YouTube and most other ad-supported CTV ads. 

We should not expect to see the third-party audiences available for CTV campaigns. It is unclear what, if any, first-party audience CTV targeting capabilities will become available in the future. 

Audiences for in-market, affinity and demographics audiences will become available within the next few months. 

Demographic audiences – gender, age, parental status, and household income – will become available by the end of this quarter. 

Some affinity audiences are already available on the platform (as of today, none directly relating to the travel industry), with more expected to become available by the end of this summer.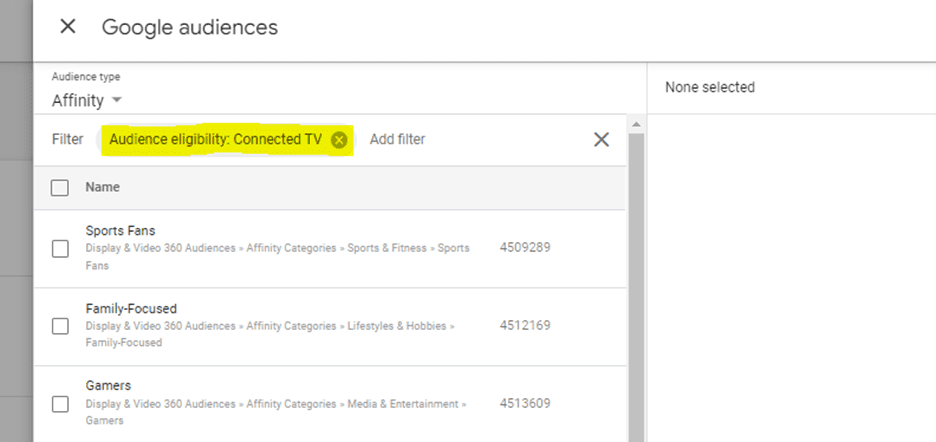 Some Affinity audiences are already available for targeting on DV360.
Cendyn's take:  Running a CTV campaign may become easier than ever. Rather than going publisher direct or buying through a self-serve ad platform (such as Hulu's Ad Manager), we'll be able to run CTV campaigns on DV360. This gives us more control over targeting, spend and optimizations, and will unlock untapped inventory for hospitality brands. 
Additional 2022 announcements
Ads & ad placements
Video will also be coming to Google Discover (not to be confused with Discovery campaigns).
Messages in ads – Google Business Messages will allow consumers to message with businesses directly in Search ads.
New auto-generated responsive ad (RSA) assets are coming to Google Search. Google will enable RSA assets based on content from landing pages and existing ads. Please note: this will not be done automatically; advertisers can choose to "opt in."
A smarter "asset library" is coming to the Google Ads platform. This will house variations of creative assets and allow for faster video and image ad creation.
Campaigns & automation
A number of updates are coming to the Performance Max campaign, including expanded campaign management support in Search Ads 360.
New reports for Insights Page: Attribution Insights, Budget Insights and Audience Insights.
Optimization Score is rolling out to cover more campaign types.
Global Site Tag will become the Google Tag. One Google tag will replace the Global Site Tag for all Google Ads and Google Analytics accounts.
New Search & Conversion Lift tests will allow marketers to bucket users who have and have not seen their ads and gauge brand awareness lift initiated from both groups.
Preparing for a cookie-less world
Google continues to develop Privacy Sandbox, which will allow for interest-based advertising and targeting without the use of third-party cookies. These use aggregation (putting people into large groups), anonymization (no trackable details), and on-device processing technology (limiting the information that leaves someone's device or browser) to manage user data.
Automation and machine learning tools were branded as ways to mitigate performance decreases expected to be seen from the implementation of less accurate targeting.
The collection and leveraging of first-party data was championed by Google executives as one of the best ways to prepare for the sunset of the third-party cookie – a tactic Cendyn has been embracing over the last two years. CRM HubSpot integration is in the works.
Resources
Related resources