Nov 20, 2020
Comparison Year: Get a more balanced view of your hotel's performance in unprecedented times
Comparison Year: Get a more balanced view of your hotel's performance in unprecedented times
The ongoing effects of the COVID-19 pandemic have created an especially challenging year for the hospitality industry. It's shaken up the most basic hotel operations, even going as far as the temporary closure of some hotels. As hoteliers look to budget and forecast for 2021, it puts them in a unique situation – one where they should consider looking at a more balanced view of their hotel's historical performance versus solely looking at data from what we hope to be an abnormal year.
Usually, crafting a revenue strategy relies upon a revenue manager making pricing recommendations and decisions influenced by the previous year's performance. However, in these times it seems difficult, or even counterproductive, to benchmark against these parameters when 2020 has been anything but a typical year.
Revintel, Cendyn's cloud-based business intelligence solution, now makes it easy for hoteliers to look at on-the-books data and compare hotel performance up to three years back. The all-new Comparison Year parameter is offered in 15 standard reports and allows revenue managers the ability to quickly choose a comparison year outside of the previous year parameter. It offers an easy way for hoteliers to compare data to a more realistic year and help make more informed decisions.
SCHEDULE A DEMO TODAY!
Easily compare data up to three years back
The Comparison Year drop-down is located in the report parameters panel under the As of Date field. Hoteliers can select one, two or three years back and compare their on-the-books data to a previous year other than 2020.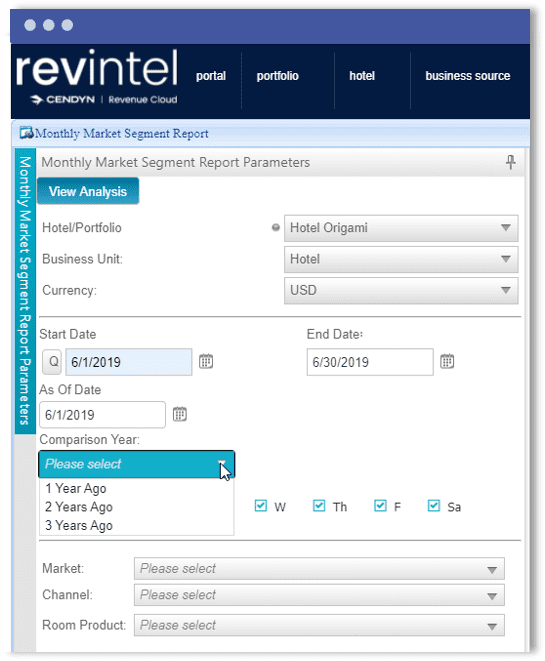 The Comparison Year parameter is now available in the following reports:
Pace Report
Rate Code Pace Report
Daily Pace & Pickup
Channel Pace
Source Market
Province & State
Length of Stay
Production Patterns
Portfolio Report
Market Report
Market Performance
Rate Code Analysis
Channel Report
Pace and Pickup Analysis
Monthly Market Segment Report
Custom reports where applicable
Featured use case:
The year 2020 has been a unique year where business levels were far from normal and perhaps some hotels were forced to close for a certain amount of time. As we progress into 2021, you need the ability to compare on-the-book information to a previous year that may have been more realistic than 2020. With Comparison Year, you now have the opportunity to compare future date information to 1 year, 2 years or 3 years ago, providing a more representative view of your hotel's performance.
If you'd like to find how Revintel can help you, request a demo today!
Resources
Related resources