Nov 23, 2020
Guestrev RMS: The latest advancement in maximizing your hotel revenue strategy
Guestrev RMS: The latest advancement in maximizing your total hotel revenue strategy
Revenue managers alike are looking at their budgets and asking the same question, "How are we going to increase our revenue?" In today's environment, increasing hotel revenue seems nearly impossible, yet there are areas of potential revenue that hotels can look to beyond simply selling rooms.
The latest advancement to the Guestrev RMS now offers hoteliers a detailed breakdown of their expected compared to actual non-room revenue sources. View up to nine non-room revenue/ancillary spend categories and customize them based on your hotel and data. Maximize your revenue strategy with this new level of data transparency.
With this new feature, a great first step is breaking down and evaluating your hotel's ancillary products and services, such as golf, food and beverage, parking, pet fees and more. While some may not be performing well now, there are still ways to capitalize on these and develop strategies for the future.
SCHEDULE A DEMO TODAY!
Discover new areas of revenue opportunity
View the expected versus actual non-room revenue in the Guestrev Reservations + Lost Business (Res + LB) dashboard, located under the Analysis tab. Tick the 'Show All Revenue Categories' box before running the report, and the non-room revenue separates into user-defined categories, such as golf, food and beverage, spa, retail and more.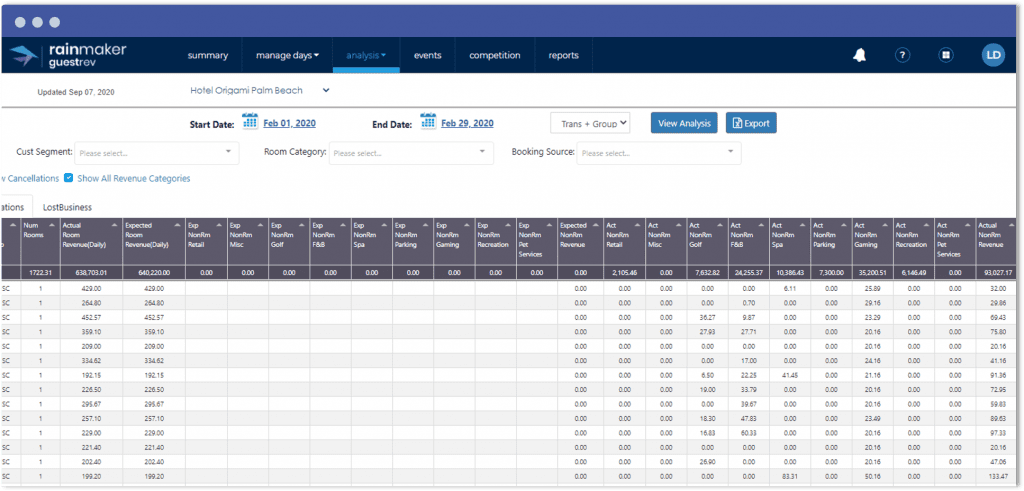 View the data in your dashboard or export and share it with your marketing and operations teams to help create new value-add revenue opportunities and make more informed decisions about your hotel operations.
The new Guestrev RMS feature can be an absolute win for your hotel. It allows you to increase ancillary on-property sales but also learn how you can use this data to develop a long-lasting relationship with your guests and the products and services they value. Create unique upsell or cross-selling opportunities throughout the guest booking process and take advantage of these ancillary sales efforts to drive additional streams of top-line revenue.
Featured use case example:
Your actual non-room revenue for the past 7 days was greater than your expected non-room revenue. Understanding what control segment(s) had the bigger variance and which specific non-room revenue categories were responsible for the increase allows you to capitalize on a potential new strategy. Additionally, you'll be able to see if you should expect that trend to continue with on-the-books reservations.
Schedule a demo of the Guestrev RMS today to see the latest advancement in total hotel revenue management!
Resources
Related resources