Dec 7, 2020
eProposal Video: drive more sales conversations with personalized videos
eProposal Video: drive more sales conversations with personalized videos
With 2020 firmly cemented as the year we all turned to video to communicate and maintain relationships – business or personal – it can safely be said that, in our socially-distanced world, we could not have survived without it. This shift in behavior and new way of carrying out business meetings, chatting with friends or sharing personal messages with loved ones will not go away either, it's here for good.
So, today, we are bringing Cendyn's eProposal and personalized video together. Whether it's for a meeting, special event or wedding, a sales proposal needs to stand out more than ever and with a shift in behavior, consumers are demanding a personal touch and seamless experience for any type of purchase. eProposal Video makes your proposal stand out, especially when prospects are comparing your features, functionality and pricing to multiple venues or hotels. Cut through the noise and bring that face-to-face personal experience everyone demands to a fast and effective online proposal. Tailor each sales proposal with compelling video content so your team can measure success. Adding this multi-dimensional layer to your sales effort is sure to help you stand out in one of the most challenging environments our industry has seen.
SCHEDULE A DEMO TODAY!
Using Video in your sales proposals
The new Video feature allows you to quickly add video content in your sales proposals. Simply upload a video that's hosted on an external site such as YouTube or Vimeo and paste the link in eProposal's video section. That video will then be automatically added to your video library.
Select the video you want to use in your proposal based on the title or thumbnail image and it will automatically get added to your proposal. Store a collection of videos in eProposal and easily add more at the click of a button or repurpose for future use.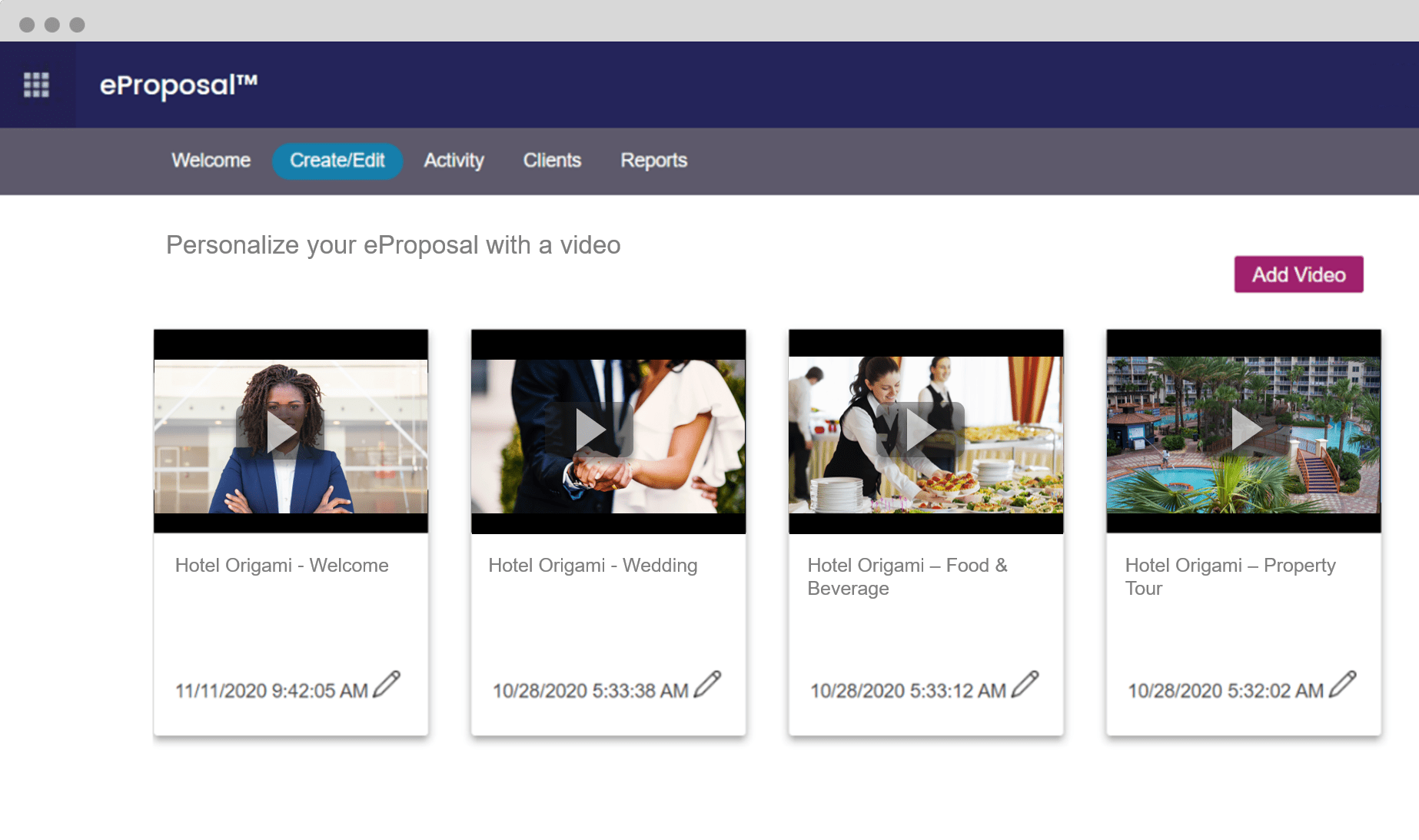 Featured use case examples:
Create custom videos based on the event type (e.g., wedding, B2B conference, etc.) and add in personalization elements such as group or company name and focus on important details that are most important to them.
Use pre-recorded videos showcasing your property, whether it's a welcome video, property tour, hotel amenities and services, or safety protocols. Highlight your differentiators that help set you apart from the competition.
Unlike general emails and text, a video can convey so much more in a short amount of time. Create a compelling story behind your proposal and use as an opportunity to establish trust and a connection with your prospects.
Imagine what sending a video sales proposal could look like! Schedule a demo today to learn more.
Resources
Related resources