Celebrating Hotel Heroes across the globe
The past few weeks have been challenging for our industry to say the least. As a whole, individuals and businesses are overwhelmed with grief and angst as we navigate this global pandemic. But amongst the turmoil, there has been incredible signs of hope, community and giving.
We spoke to a number of our customers to find out how they were coping right now and many of them were able to share incredible stories of how they were using this time to give back to the community, donate or provide support for their furloughed employees. We've collated these stories for you to in our Hotel Heroes series, below is the wonderful story from The Standard.
The Standard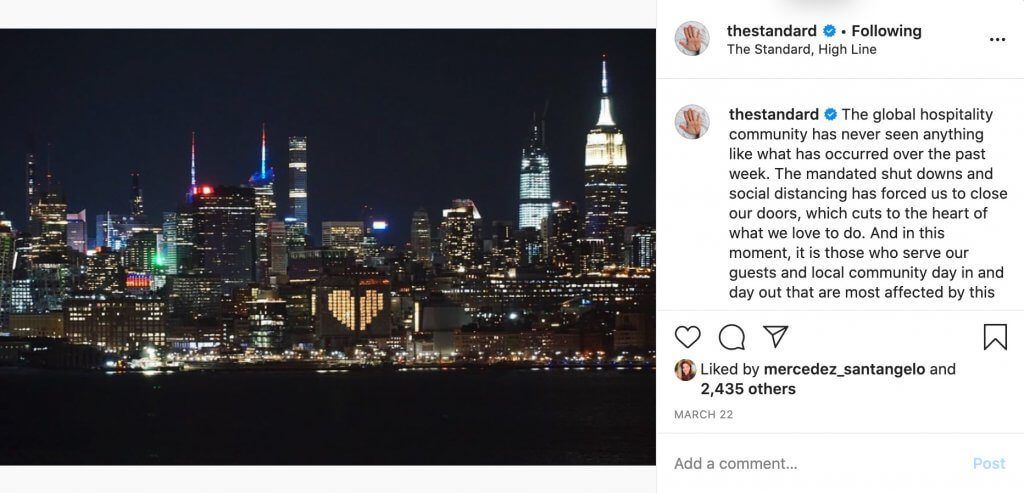 In an effort to help employees, The Standard setup a fundraising page uniquely for their employees. The Standard Stands Together Relief fund.
"This fund was started and seeded by the leadership team at The Standard who are now opening it to you, our extended Standard family to help reach our goal. 100% of the proceeds will be used for the benefit and support of team members who have lost their jobs due to the effect of COVID-19 and are struggling to maintain basic human needs including health care, medicine, groceries, diapers, and shelter.
Today, our hearts are with them and those workers in hotels, restaurants and bars around the world facing the same circumstances, some 266 million globally. The impact as a whole is almost unfathomable, and the impact on each individual is all too real.
Thank you for your support today, and over these many years we've enjoyed together.
When this passes, we will be ready to welcome you and our employees, back with open arms. There is nothing we want more."
The fund was initially setup for the leadership team to contribute to, it has now however been opened to the public with them, as of April 20, 2020, well over half way to their goal of $200,000.
In addition to the Go Fund Me page, 100% of profits from The Standard Shop will be going to the fund to support employees.
The Standard Stands Together Relief Fund has rallied support across the globe through their social media and email campaigns: