About
Golden Nugget Hotels & Casinos is an American chain of luxury hotels and casinos. It currently operates five casino resorts in Nevada, Louisiana, New Jersey, and Mississippi. It also operates the #1 NJ online casino and offers progressive online slots, online blackjack, roulette, live dealer casino, video poker, keno and an online Sportsbook.
Customer Story
Golden Nugget
Golden Nugget achieves success with Cendyn's digital marketing services
A top online casino needed to find a way to stand out from its competitors
THE CHALLENGE
As the #1 online New Jersey casino, Golden Nugget was looking for a way to cut through the noise of the crowded gaming industry. The aim was to do so with personalized multi-channel campaigns that engaged their audience and showcased their brand. They hoped to achieve this by driving both registered users and First Time Depositors (FTDs) to their portal through digital channels, while simultaneously navigating changing regulations and delivering positive YOY growth.
THE SOLUTION
Cendyn identified a comprehensive digital marketing strategy that could help Golden Nugget achieve their goals. With Cendyn's help, Golden Nugget launched a digital marketing campaign across Display, Paid Search, Social, and YouTube. This multi-channel approach allowed Golden Nugget to get in front of its target audience and reach new prospective customers who ultimately converted directly via their website, or mobile application.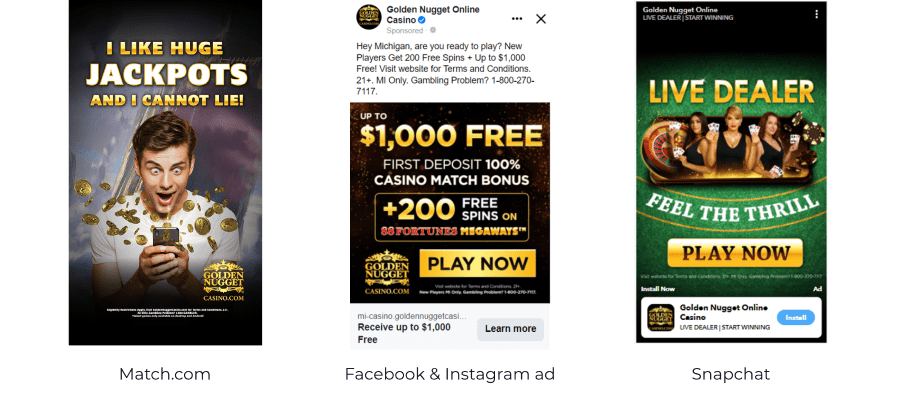 THE RESULTS
Since 2016, Golden Nugget has seen consistent YOY growth in First Time Depositors, all while lowering their Cost Per Acquisition (CPA) and scaling across channels. Through constant channel optimization, they've achieved a 60% conversion rate from registrations to First Time Depositors.
Increase in First Time Depositors
Increase in conversion rate

Resources
Related resources