The very best email campaigns delivered by Cendyn customers in 2018
We're delighted to share with you the very best email campaigns of 2018! Each email was carefully selected based on email design, click through rate, open rate, segmentation and revenue generated. We're so proud to share these as it's a testament to the hard work our customers put into delivering the very best for their guests. These emails are just a snapshot of how our customers are striving to improve the guest experience and guest journey using CRM.
So, without further ado, sit back, relax and enjoy our gallery of this year's winners!
Hotel Café Royal

Subject line: Be the first to visit Cakes & Bubbles
Success: After a much anticipated opening of a new café – Cakes & Bubbles – at the Hotel Café Royal, London, the team shared the news with their subscribers and saw the following results: 73% unique open rate and 35% click rate.
Avalon Beverly Hills
Subject line: Cyber Week Ends at Midnight, Last Chance to Save 40%
Success: Over the course of Cyber Week, Avalon Beverly Hills used an eye catching GIF to draw attention into their offer. Sent over a period of five days, the team re-sent to subscribers who had not opened during that time frame to maximise visibility.
Subject line: Happy holidays from The Hoxtons!
Success: This delightful email from the team at The Hoxton was a fresh stance for the Holiday Season. This festive offer resulted in 95% open rate and 69% click rate.
Avani Hotels & Resorts
Subject line: This is not a drill: members-only sale coming soon
Success: From the team at Avani Hotels & Resorts, this campaign was a teaser send for their quarterly PRI member promotion. It had a catchy subject line and used a GIF to feature a flight board with the sale taking off and images of the properties that are going to be on sale for this promotion. A fresh approach to a member-only promotion.
Gravetye Manor

Subject line: July 2018 Newsletter – Special Dining Offer
Success: This beautiful campaign from the team at Gravetye Manor was hugely successful for a monthly newsletter as they showcased a special dining offer for their summer menu. The team saw 71% open rate and 39% click rate.
Linden Row

Subject line: Specials and Upcoming Events in Richmond – November 2018
Success: This campaign from the team's Fall newsletter saw great engagement, but most note-worthy was the revenue generated from this campaign as they promoted a Fall rate code within the newsletter. Targeting, timing and messaging meant this campaign saw great results.
Naumi Hotel Singapore

Subject line: Naumi says… Vacay mood ON! 40% OFF Insider Exclusive
️
Success: Targeted specifically at those who had stayed at the Singapore and Auckland properties in the second half of this year, the campaign focused this specifically for their "Insiders". The email uses bright bold images to stay on brand and keep the reader interested throughout.
Subject line: Our once-a-year offer
Success: By drawing the recipient in with their glamorous GIF that showcased a 'once-a-year offer', the team at Buckland Manor, part of Andrew Brownsword Hotels, saw fantastic engagement to a targeted group of recipients. With a 50% open rate and 16% click rate, the team were delighted to see both high engagement and revenue attributed to this email.
Pineapple Hospitality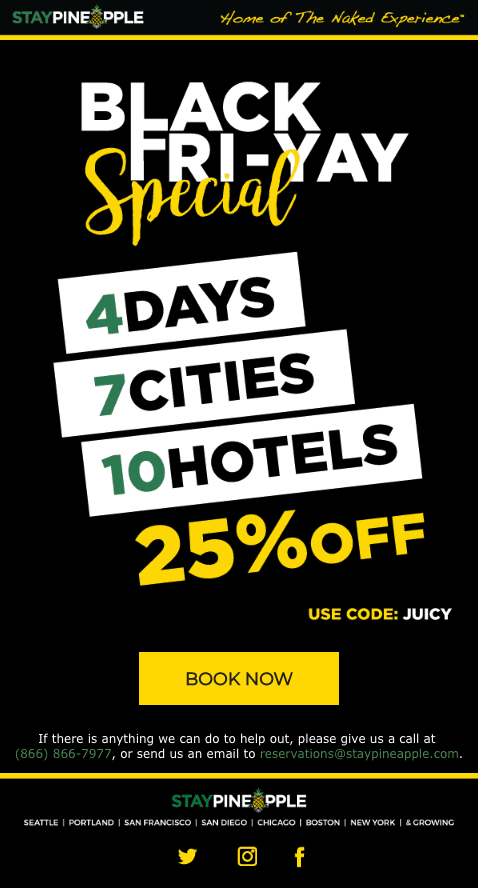 Subject line: It's Black Fri-YAY! Celebrate with 25% off
Success: This campaign on the ever-popular Black Friday, was split between different audiences to track performance. The winner from the A/B test list drove almost 20% open rate and 16% click rate.
Subject line: Where the wild things are
Success: This campaign is a part of the series promoting Mekong Kingdom which is Minor's Mekong River Boat Cruise. This was the second email they sent promoting this new adventure and was a real hit. Minor Hotels targeted this email at high-spending guests who last stayed at their different properties in the same area. The campaign had a catchy subject line and uses the hero image to show different views you can take in while on board the cruise. This campaign had a 98% open rate.
Congratulations to all the winners!